If feedback on our Facebook page is anything to go by many of our readers have been buying new 1440p and 4K monitors. It would appear however that buying a new monitor is not a completely pain free experience, based on our inbox in recent months anyway.
A handful of readers have sent me emails on horror stories recently – receiving monitors with a single, or more than one dead pixels – sometimes in central panel positions. Often, it would appear that the retailer involved is under no obligation to replace a panel with a couple of dead pixels – even though it is brand new. The general 'ruling' seems to be some dead pixels are perfectly acceptable.
I can't help but feel that the general mass market audience might not even notice a dead pixel, but I am certain that many obsessive, quality driven KitGuru readers would find even one or two dead pixels a serious distraction.
We don't often name a retailer involved in reader emails as it is difficult to know if emails have a hidden agenda – after all a company can send an email or post a comment under an individual name to try and damage a competitor. Sadly this is in fact a sneaky tactic that has been going on now for many years.
What we can share today actually happened to one of the KitGuru editorial team Matthew Wilson. Matthew has worked for me now for years so I know he is a genuine, 'real' person – an enthusiast gamer, likely just like you reading this today. What occurred has raised concerns with me, especially as it could be an important warning to readers going to buy a new, expensive monitor.
Matthew is a young journalist living in Manchester so he decided to buy a new 144hz monitor locally from ARIA – picking up a brand new Acer XB270HU Predator Nvidia G-Sync monitor shown HERE on their store. When Matthew unboxed the panel, all looked well – until he fired it up. Sadly he immediately noticed a dead pixel in a fairly central panel position.
As he lives just around the corner from ARIA he decided to take it back on Saturday afternoon to ask if he could get it replaced. The staff member at ARIA said they wouldn't replace the panel as up to '19 dead pixels' on a 27 inch 2560×1440 monitor is considered acceptable. Matthew then asked if he could please have his money back – the dead pixel was distracting.
The customer services representative told him that if he wanted a refund they would need to keep 25% of the price he paid. In this case a quick calculation shows that 25% of £550 is £137.50.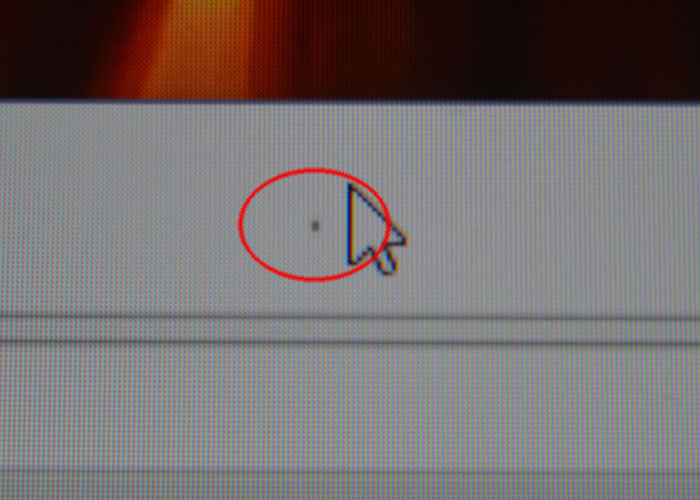 Above: Brand new £550 Acer XB270HU Predator Nvidia G-Sync monitor. Would this be a problem for you?
Matthew is forced to either deal with the annoying dead pixel, or lose a rather hefty £137.50 overnight. From my own point of view, I was always under the impression that a couple of dead pixels was classed by the industry as acceptable, although I know that if I buy from Amazon in the UK it is easy enough to send it back, without any issue. What do you feel? Would you live with a dead pixel if you just spent £550 on a new monitor? How many dead pixels is it before you class it a problem? Surely not 18 or 19?

ISO 13406-2 guidelines which specify an "acceptable" number of dead pixels by display category. By this standard, Class 1 displays tolerate exactly zero dead pixels or sub-pixels which makes them expensive and uncommon. Class II monitors–the kinds we actually use–are allowed to exhibit two malfunctioning pixels and five malfunctioning sub-pixels per million. On a 1080p display, four dead pixels and ten dead sub-pixels would be within ISO tolerances. (Source). This ISO guideine is likely now out of date, but apart from Wikipedia, there is little information on what exactly the rulings are. Every manufacturer seems to have different views on this.
This report is a few years old, but it does list some details on various policies from panel manufacturers. Tested.com say 'Acer's policy doesn't give us much to cover–it sticks right with ISO standards and doesn't distinguish between dark and bright malfunctioning sub-pixels.
Acceptable pixel anomalies
Resolution
Bright or Dark
1024×768
4
1280×1024
7
1600×1200
10
2048×1536
16
The ARIA staff member dealing with Matthew in store on Saturday didn't mention if this was an ACER policy and he didn't go into detail about another monitor manufacturer or different company policies, it was just a general statement – that 'up to 19 dead pixels on a 2560×1440 27 inch monitor is classed as acceptable'.
Based on the Tested.com report ViewSonic have a 30 day Zero Dead Pixel Policy. That is certainly what we like to see! To get up to date information, we have sent out a series of emails this weekend to various manufacturers.
If any of our readers have experience of problems buying a new monitor with dead pixels and a retailer has either helped, or refused support, do let us know on our Facebook page over HERE. It will be interesting to get your first hand experiences.
Matthew is going to contact ACER directly on this matter, to see what they say about it. After all he has no other option now.
EDIT: ACER (support rep Vishal) have just replied directly to Matthew in email and said 'Hi Matthew, It would depend where on the display the dead pixels are. If your dead pixels fall within the tolerance allowed for defective pixels, we would not be able to repair this under the terms of the warranty.
Acer's pixel policy states, there shall not be more than 4 defective pixels per million pixels on a given LCD display. Additionally if the display panel is divided into 9 equal rectangular areas, there shall not be more than one defective pixel in the central area of the display.
If you are not sure about the dead pixels being within the terms of the pixel policy, we may be able to arrange for your machine to come in to our repair centre for one of our technicians to assess.'
It just goes to show that if you are buying a new monitor – check with the manufacturer and retail store – get both of their policies clear BEFORE parting with your cash. The worst case scenario is that it may be an expensive problem you are forced to live with.
Join Discussion on our Facebook page, over HERE.
Kitguru says: I know some of our readers have claimed they won't buy from Amazon due to the UK tax evasion scandal in recent years, but would you not feel more comfortable buying a monitor from them if you knew that you had a full month to claim your money back if you weren't happy?