To test the Pulsefire, I used it as my daily driver for a week, giving me plenty of time to get an idea for how it feels and performs. During this time, I used it while performing a variety of different tasks, including gaming, photo editing and general usage.
Usually, I like to look at software first, but the Pulsefire does not actually come with any software – it is truly 'plug-and-play.'
This does have a few consequences, though. First of all, the lighting is a fixed, red-only colour as the Pulsefire is not RGB-capable. It is not an issue for me, and I can't imagine it will be a problem for many, but it is worth pointing out.
Secondly, the lack of software also means the DPI stages are locked at 400/800/1600/3200. I'll talk about this a bit more below, but it is also knowing that for each DPI stage, the DPI cycle button lights up a different colour (white, red, blue and yellow respectively). These colours are also not programmable.
All-in-all, though, I don't think the lack of software hurts the Pulsefire. It is clearly designed as a simple FPS gaming mouse that 'just works' right out of the box. If you're looking for fancy RGB lighting and intricate software control, this mouse is not for you.
Now, let's talk about performance. I'll start with a question many of you are probably thinking – why did HyperX use the older PMW 3310 sensor when the newer PMW 3360 is currently the king of the crop? It is definitely a good question, so I got in touch with HyperX to ask them about it.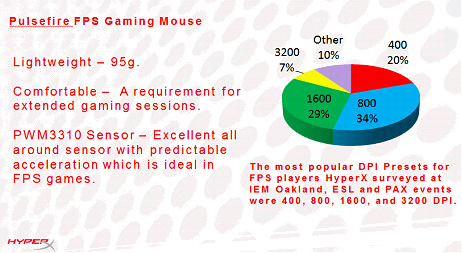 The answer is that, simply put, HyperX didn't feel the need to use a PMW 3360. According to their data, the vast majority of gamers simply don't exceed 3200 DPI (the Pulsefire's limit) so, from their perspective, it doesn't make sense to spend extra money on the latest sensor when 90% of gamers won't benefit from it.
I can definitely understand this approach (though funnily enough, I'm actually in the 10% of those who exceed 3200 DPI) given the Pulsefire's positioning as a simple-yet-effective FPS gaming mouse. In-practice, too, the PMW 3310 sensor is still excellent, with no unwanted prediction or acceleration being noticeable – I found it tracks perfectly.
Having the DPI presets locked at 400/800/1600/3200 does remove an element of control, but these presets give a good range of sensitivities and I was happy using them day-to-day. Having the DPI cycle button illuminate a different colour for each DPI stage is also handy, just by giving a visual indicator of which stage you are currently using. Personally speaking, I would prefer two DPI-switch buttons instead of a single cycle button, but that is only a minor point.
So, now that that's out of the way, another key area for the Pulsefire is comfort and ergonomics. After all, it is no good designing a simple FPS mouse if no one will wants to use it on a daily basis because it is uncomfortable.
However, that is certainly not the case here, as the HyperX Pulsefire is very comfortable, even more so than the Deathadder Elite in my opinion – and the Deathadder Elite is currently my daily mouse of choice, so that is definitely saying something. The Pulsefire does have quite a 'bump' to it, which suits palm grip particularly well, but I had no issues using a claw grip either.
The two side buttons are also within very easy reach, something which is also important to me as I map these buttons to my grenades or melee function in-game. Lastly, the rubber grip sections also work very well, and I did not feel I was losing control of the mouse at any point, even after a few long sessions of Ghost Recon: Wildlands. All-in-all, my hand felt right at home when using the Pulsefire.
Other than that, there is not a lot to discuss. Clearly, the Pulsefire is designed to be a fast, lightweight and responsive gaming mouse without any unnecessary 'frills'. That does mean it lacks other features (such as RGB lighting, re-mappable buttons and weight adjustment) but it will definitely appeal to those who want a mouse that requires zero fuss and works well.