Overall, I am thoroughly impressed with the Roccat Leadr wireless mouse.
For starters, I love that it comes with a dedicated charging dock that also doubles as a stand when the mouse is not in use. The dock looks good in an understated fashion and I was not ashamed to have it sitting right on my desk.
The Leadr also sports a very interesting button layout, which Roccat is calling 'next-gen'. Essentially, there are loads of buttons in some unusual places, but after getting used to the button placement, the layout is actually intuitive and very useful. In practice, I simply found I had a lot more buttons available to me without having to move my whole hand all over the place.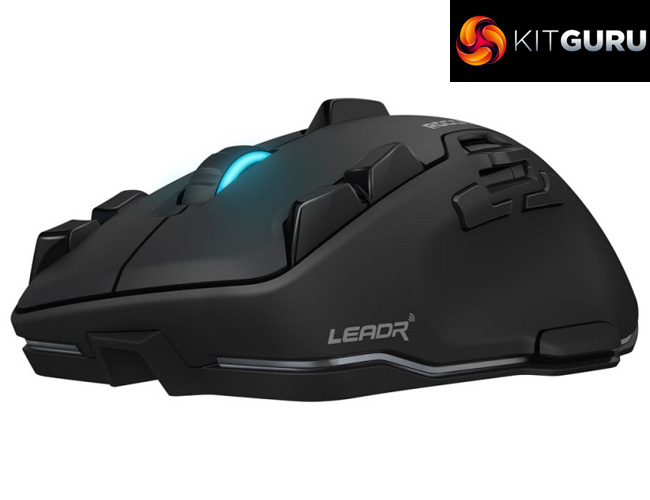 Wireless performance is also very good. I had no issues with input latency and the PixArt PMW 3361 sensor is as capable as you would expect. In short, I used the Leadr for days on end without encountering any major issues which is quite impressive for a wireless mouse.
The only potential issue with the mouse is the RGB lighting – it is just quite dim and lacks the vibrancy we would expect from a mouse of this price. My guess is that this was done deliberately to improve the battery life, but it is a little disappointing.
That being said, the Roccat Leadr is overall a superb wireless mouse. It has plenty of worthwhile features, very solid battery life and performs like a dream. It does cost a fair bit, but for a wireless mouse of this calibre you do have to be prepared to pay.

You can buy one from Overclockers UK for £129.95 HERE.
Pros
Comfortable.
Lots of buttons.
Excellent wireless performance.
Very good battery life.
Dedicated dock/stand.
Good software.
Cons
RGB lighting is quite dim.
KitGuru says: The Roccat Leadr is an excellent wireless mouse. Aside from the minor issue with the RGB lighting, I find it very hard to fault.