Just the other week, Razer announced the Viper Ultimate wireless version and now the company has added another of its popular mice to its wireless range. The Basilisk Ultimate and Basilisk X HyperSpeed are the latest Razer mice to receive the wireless upgrade.
Razer has introduced two new versions to its Basilisk series of gaming mice. Both the Razer Basilisk Ultimate and Basilisk X HyperSpeed gaming mice are set to join Razer's ever-increasing wireless mouse family that is powered by the company's very own, Razer HyperSpeed wireless technology.
The company claims its Razer HyperSpeed technology is up 25% faster than wireless technology from other gaming brands and has been tested and proven by top esports athletes. Razer HyperSpeed registers mouse swipes and clicks instantly, thanks to its fast transmission speed and low latency. Adaptive Frequency Hopping constantly scans and switches frequency channels seamlessly, to provide a perfectly lag-free wireless connection.
"With the Basilisk Ultimate, we have combined the fastest wireless technology with even more customizable features than its predecessor. As for the Basilisk X HyperSpeed, it supports the highest battery life in any wireless gaming mouse," said Alvin Cheung, Senior Vice President of Razer's Peripherals Business Unit. "Both mice are perfect for gamers who want full wireless control and responsiveness."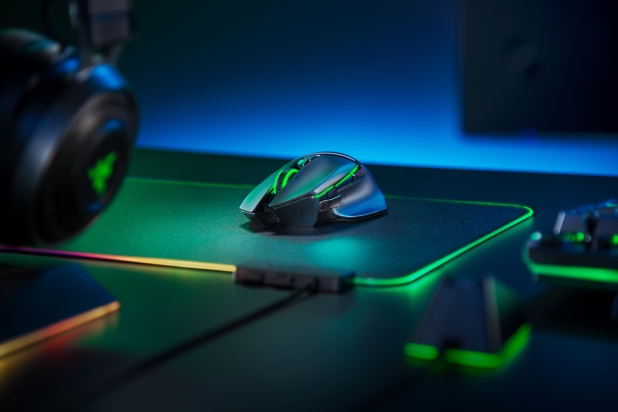 The Razer Basilisk ultimate is equipped with a Focus+ 20k DPI Optical Sensor, the same as the Razer Viper Ultimate, which is the highest sensor specification to date, according to Razer. Other features include Smart tracking, Asymmetric Cut-Off and Motion Sync to provide greater accuracy. The Razer Basilisk Ultimate is fitted with Razer Optical Mouse Switches which send electrical signals to the PC with no physical contact, eliminating debounce delay and causing zero corrosive effects.
In addition, Razer has introduced the Basilisk X HyperSpeed that features both HyperSpeed Wireless and Bluetooth connectivity, so users can switch to Bluetooth for extended battery life of up to 450 hours. The Basilisk X HyperSpeed features a Razer 5G Advanced Optical Sensor with true 16,000 DPI. Together with six programmable buttons and on-board DPI Storage, users can carry their settings anywhere without the need for extra software. The Razer Basilisk X HyperSpeed includes Razer Mechanical Switches with a lifespan of up to 50 million clicks.
Both new Basilisk wireless mice are available now and can be purchased from the Razer online store. The Razer Basilisk Ultimate is priced starting from £169.99 and the Basilisk X HyperSpeed is £59.99.
Discuss on our Facebook page HERE.
KitGuru says: These new mice from Razer further bolster the company's already huge range of gaming peripherals. The Basilisk X HyperSpeed seems to offer the best value at £59.99, However, hardcore gamers may want to splash out more on the Razer Basilisk ultimate with its extra features.