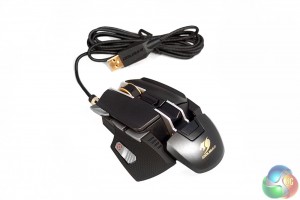 If you could not tell from the packaging shot, the Cougar 700M is a pretty unique looking mouse. Instead of a solid body like most gaming peripherals, this one has an open plan, only offering support where it is necessary. The reasoning for this is not necessarily just to look artsy, but also to cut back on weight and encourage airflow around your hand.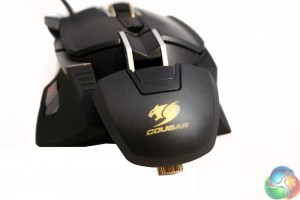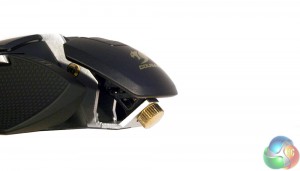 There are a lot of different materials used in the construction of this mouse. There is hard, black plastic for the two main buttons and rear palm rest and slightly cheaper feeling plastic for the side buttons and rubberised, textured thumb grips. All of this is mounted on an aluminum frame.
At the back, hidden under the palm wrist is a small brass thumb screw. This raises and lowers the rear portion of the mouse, to switch between claw and palm gaming position. It surprisingly works really well and does not feel gimmicky in the slightest.
Moving around to the side, you can see that there are a fair few additional buttons to play with, including a thumb switch for sniper duties (mounted at a 45 degree angle to supposedly aid in pressing), the traditional forward and back buttons and an additional switch near the front of the left mouse button, which feels a little hard to reach.
The rubber side grips are textured to help avoid sweat build up. However those ridges are going to get filled with dirt over time, so have a cloth handy.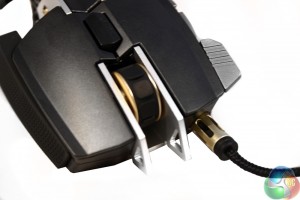 At the front end there are the usual twin left/right click buttons and a scroll wheel with a button.
A couple of other features worth noting though, is the central aluminum frame surrounding the scroll wheel. When powered on, this area lights up thanks to a customisable LED inside (see later for lighting shots). You might notice also, that the mouse's cable is located to the side, not the center and given a much sturdier housing. This is to prevent the cable and its connector becoming damaged over time.
Personally I have always replaced my mice well before the cable has ripped out of it, but it is always nice to see companies improving the durability of their products.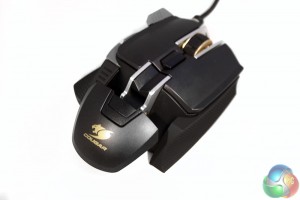 The right hand side simply has a rubber finger grip, with no extra buttons to speak of.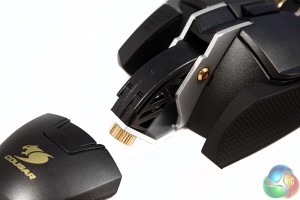 The rear rest can be removed with a push button system and requires no tools, meaning you can switch them on the fly if you like. However you are most likely to find one you prefer and stick with it.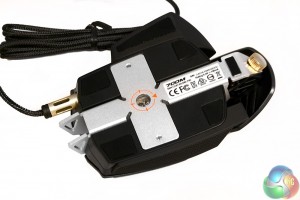 Compared to the top side of the mouse, the underside is pretty typical. You have a centrally located laser sensor – do not look directly at it kids – with four surrounding teflon pads, along with a longer one on the thumb grip. It is quite a different layout of feet than you get on some mice, so it will be interesting to see how it performs.
The cable is also braided to a high standard and the USB header is slightly more resistant to wear thanks to being leafed in gold.