The Mouse
In terms of my own trials with the Cougar 700M, I was quite impressed. It is a very strange looking mouse when you first take it out of the box – looking more like an engineering sample or an early prototype than a finished mouse – but it works very well indeed.
The sensor is sensitive enough to give you plenty of options for high speed and low speed gamers. The frame is solid and well built, meaning you never find it creaking or giving you the feeling of poor stability. The fact that it is a laser rather than an optical sensor also means that it can work on any gaming surface – although I would suggest a mouse mat for the best tracking.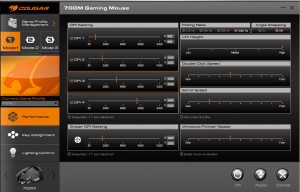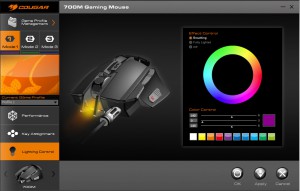 Back end software offers DPI adjustments, colour lighting options for the front and can even hook up with other Cougar products if you have them.
I was particularly taken by the rear palm rest, which did take a little bit of fiddling to find the optimum position for my 'finger grip' style – a mix between a traditional claw and palm – but once I did, I was pleasantly surprised by how comfortable and sturdy my grip was. The added airflow from the extra space in-between the front and rear of the mouse certainly helped with perspiration build up.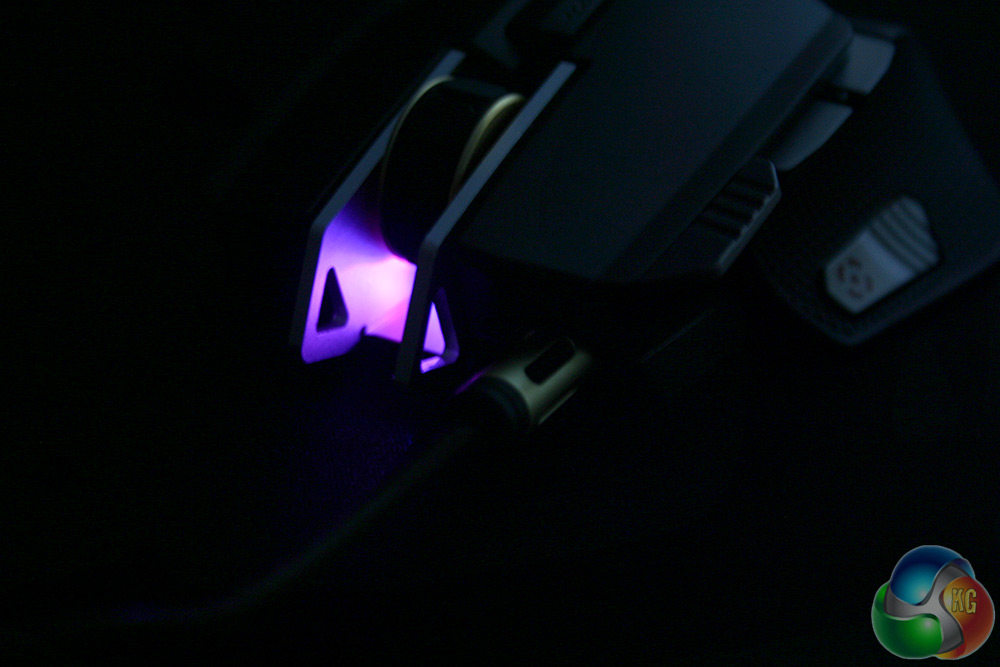 You can set different lights for different sensitivity and key mapping profiles
If I had some criticism of the Cougar mouse, it would be the far-front left button, which I struggle to reach comfortably and certainly would not be able to do so with ease in the heat of a frenzied game. This may not be a problem for palm grippers or those with longer fingers, but it is worth bearing mind. The top left corner of the left mouse button is not in the easiest to reach position.
I also found when I first started using the mouse that it would occasionally seem to rotate slightly around its center point, by around 10 degrees counter clockwise. This would occasionally exhibit some confusion in me before I realised what had happened and corrected it. It never proved particularly problematic or impacted negatively the accuracy of the mouse, but it did mean I occasionally had to 'reset' my hand position while using it. Ultimately this turned out to me needing to reposition the palm rest a little.
It is far from a big deal, but it is worth bearing in mind that with a mouse with a customisable body, get ready to second guess yourself a lot and spend some time fiddling to get the positioning just right.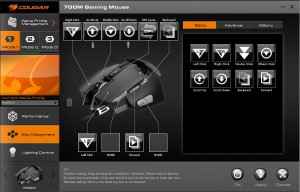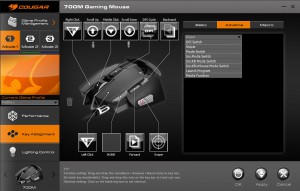 Key remapping is through a wonderfully simple drag and drop process, with nice, large buttons making it very easy. You can even map the buttons to launch software.
It seems to me also, that the DPI switch could have had an up and down function, instead of cycling through them. It is a minor gripe, but I do not see why when many other mice offer it that the 700M could not.
While not entirely necessary, I like the idea of the cable being better protected. I have lost headsets in the past to cables becoming dislodged, but it would be very unlikely for this one to be torn from its housing.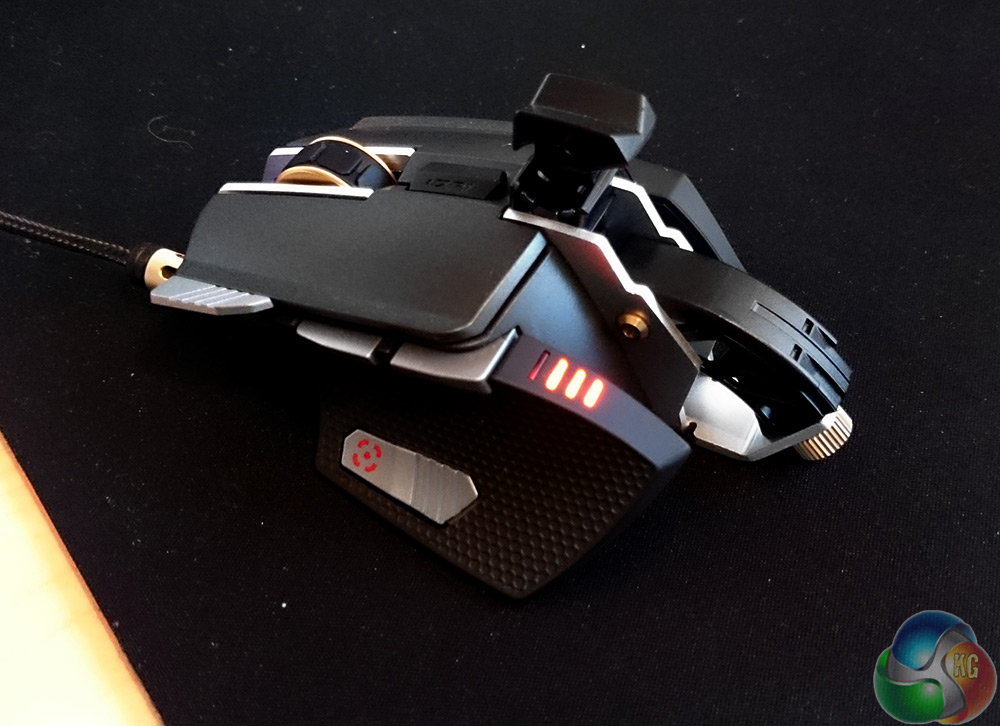 The weights system involves pulling out the middle section and simply slotting them in
It was also nice to see the ability to add weight to the mouse if you prefer something sturdier, but that seems like a strange feature to add to a mouse that specifically uses lightweight components and is missing half of its mid-section, partly at least, to make it lighter.
The Mat
As for the Cougar Speed mat, it is a very nice mousing surface to use. It is comfortable and padded, thanks to its decent thickness and it has a smooth finished surface that works well with the Cougar 700M reviewed here, as well as other laser mice and opticals. DPI did not seem to matter either, as the Cougar was operable at 8,000 DPI – just as much as it was when I engaged sniper mode and it dropped down to a tenth of that.
The Speed is also a nice size. It is not as ridiculous as some of the 'desk pads' out there, covering multiple square feet of whatever table you game on, but it was certainly big enough that if you like a low sensitivity mouse, you will not need to lift off and reset to give yourself more room. There are smaller versions though if you do not need all that space yourself and they come in cheaper too.
The underside grip on the pad is also excellent, though not so sticky that you would struggle to pick the thing up. That is another advantage of a thicker pad too … easier to grab in a hurry.
One downside to this type of mat though, with its obvious top and bottom layers, is that they can peel apart and separate over time, leaving a ragged, scratchy edge. Cougar has heat treated the Speed to give it extra longevity, but chances are it will happen one day. Fortunately for a mat this size there is an easy fix, just rotate it 90 degrees and keep on gaming.