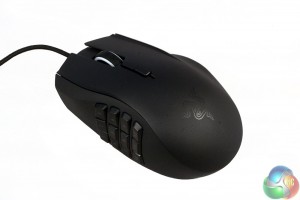 The Razer Naga Chroma 5G MMO is easily identifiable as a Razer mouse from the outset. It has that classic matt-black paint job and features a clear cut Razer logo at the rear, so that when it is powered up the light shines through.

The frame is split up into three distinct sections, a top and two sides and though the build feels sturdy, there is a little creaking if you press down on it all. It is also very much a right handed mouse, as there is unlikely to be anyone with a hand shape that would fit this in reverse. Also you need your thumb for all those buttons. Good luck getting your pinky to bend around to touch those without difficulty!
Unlike most mice, the two sides of the Razer Naga Chroma 5G MMO are very different. The right hand side features a long, plastic finger rest and a rubber patch below it to give you additional grip. In contrast, the left hand side does not have much in the way of additional grip or a rest, but it does have 12 distinct, mechanical buttons, which feel a little loose in their housing when joggled.
A little like the Corsair Scimitar, the Naga does not however feature a shiftable button position.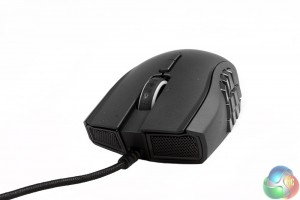 At the front end are the usual pair of aerating grills, with a pair of left/right mouse buttons and a rubber coated, light-up scroll wheel between them. Behind that is a couple of DPI selectors, providing up and down functionality.
An interesting style point to note is that the left/right mouse buttons, although part of the main mouse body, are slightly embedded in the frame, leaving short ridges on each side.
On the underside of the Razer Naga Chroma, we have a centrally located 5G laser sensor and a trio of PTFE feet. At the front end is a notable protector at the base of the cable, which should help prevent shearing over long-term use.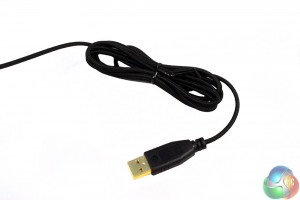 Speaking of which, the cable itself is braided with a smooth coating, so should not catch or drag at all. It also has a gold plated USB connector to improve durability.