The Asus ROG Spatha is an excellent mouse with a ton of features. The sensor is perfect, the Japanese Omron switches offer a great level of tactile feedback and everything is strong on the software side. Even build quality is top-tier with a solid aluminium base underneath the mouse.
The Spatha is a pretty large mouse and as a result, there is room for a lot of buttons. While I do feel that the default profile could have been improved, this is all achievable in the software anyway, so you can make adjustments to whatever you are not happy with. The side of the mouse has six buttons, all of which are a different shape and size to the one next to it. This layout has visual appeal but I encountered issues particularly with the middle button in practical use.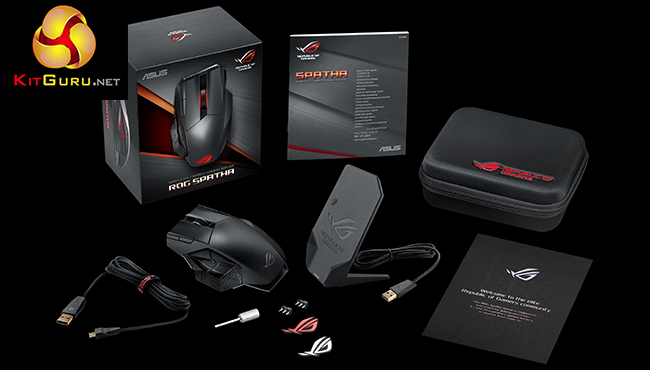 The optical sensor featured on this mouse is capable of reaching 8,200 DPI, which I think is the real sweet spot for a high-end mouse (with say a 4k screen or two). Sure, some competing mice offer up to 16,000 DPI but I think you would be hard pressed to find anyone comfortable with that extreme level of sensitivity. For me personally, I like to stick to 2400 DPI and for that, the Spatha managed just fine.
There is a lot of room for customisation with this mouse. Asus has included both braided and non-braided cables as well as an optional stand for the charging dock so you can choose whether to have it flat on your desk or not. These are all highly appreciated inclusions as in my eyes- the best thing you can do is give buyers thoughtful options.
Finally, I found wireless latency to be an absolute non-issue and battery life could get me through two days on a single charge. If your PC supports USB charging while the system is off, then I don't think you will ever be in a situation where your mouse dies mid-game, unless you forget to put it back on the dock at the end of the day.
This is a great package but it doesn't come cheap. The Asus ROG Spatha costs £139.99 here in the UK and is already up for pre-order at Overclockers UK, with shipments expected to go out in a few weeks. At this price, it is competing with other high-end mice like the Razer Mamba. However, I would argue that Asus brings more to the table with higher quality build materials and a more complete package when it comes to accessories.
Discuss on our Facebook page, over HERE.
Pros:
Top-tier build quality.
8200 DPI sensor.
Strong battery life.
Wireless latency is a non-issue.
Cons:
Some issues with button layout.
KitGuru Says: The Asus ROG Spatha offers a truly complete package that would be fit for any gamer. If you are after the very best in gaming peripherals, then you will be hard-pressed to find this level of quality anywhere else.