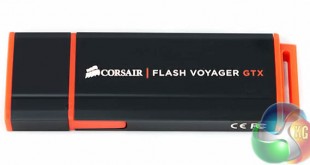 Chances are you already have several flash pen drives at home, either lying around on a desk or in a drawer. Smaller drives are ideal for flashing a motherboard BIOS and updating firmware, but the larger drives are more serious – used for backing up and moving large amounts of data between computers. It is true they are generally not the most exciting of devices however today we look at something very special from Corsair, a new flash drive they say is their fastest ever – The Voyager GTX.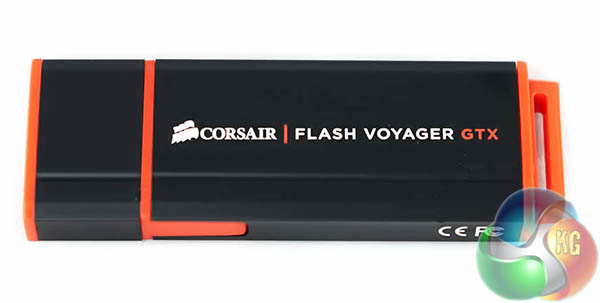 Corsair claim the new Flash Voyager GTX drives deliver 'SSD-Performance' in a thin USB 3.0 thumb drive. These drives incorporate a fully fledged SSD controller. The theory is that the performance should be significantly improved over a traditional design, all without suffering from heat issues.
While we don't have confirmed pricing as I write this, we have been told that UK prices should be around £95 inc vat for the 128GB version and £185 inc vat for the 256GB version. They are therefore very expensive flash drives, so they will need to deliver plenty of performance to justify the cost.
'It is simply the fastest USB drive we have produced'. say Corsair. So what kind of speeds can we expect according to Corsair?
Their literature states that the drives can deliver performance in excess of 430 MB/s when reading and over 350 MB/s when writing. One of the fastest flash drives we have tested to date is the Patriot SuperSonic Magnum – way back in February last year. This drive has been such a potent product that we have used in many of our motherboard and system reviews since – to test USB 3.0 performance.
Can the Corsair Flash Voyager GTX 128GB trounce the Patriot SuperSonic Magnum and claim the top performance slot?
Specifications:
Unformatted Capacity: 128GB / 256GB.
Max Sequential Read (ATTO): Up to 450MB/s.
Max Sequential Write (ATTO): Up to 360MB/s.
Max Sequential Read (CDM): Up to 430MB/s.
Max Sequential Write (CDM): Up to 190MB/s.
Interface Type: USB 3.0.