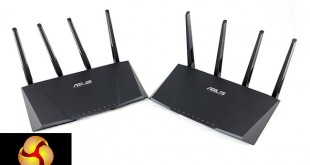 We have reviewed many of the latest high performance 802.11AC capable routers in recent months. ASUS recently sent us not one, but two of their RT-AC87U routers to test performance in single and bridge mode. Bridge Mode allows a second RT AC87U to be utilised as a 'receiver' – theoretically holding onto maximum performance, especially as we are currently experiencing a shortage of high grade 4×4 receivers.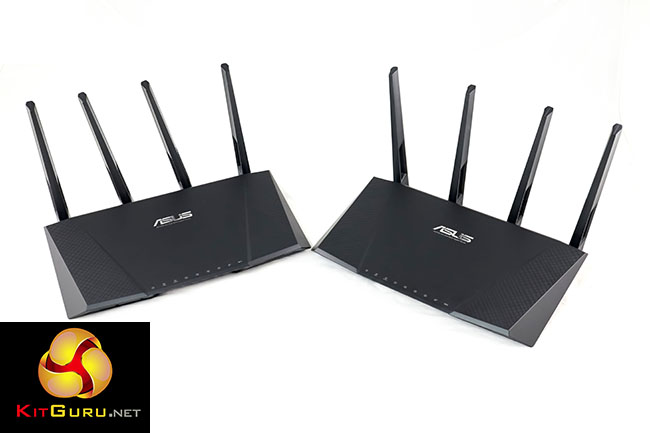 The Asus RT-AC87U is the latest in a line up of new wave high performance 802.11AC Wireless routers. At home I use the excellent NetGear R7000 NightHawk AC1900 – however in the continued hunt for even faster speeds the company have already replaced this with the, as yet, untested Netgear R7500 Nighthawk. This features a 1.4ghz dual core processor.
The Asus RT-AC87U is a new 4×4 MU-MIMO device, offering four streams for up to 1,734Mbps on the 11ac band, with 600Mbps available concurrently on 2.4ghz 11N using TurboQAM technology. This delivers a total of 2,400Mbps over both bands. This maximum speed is unlikely to be achieved in the real world as it is very dependent on the client adapters. Asus supplement the hardware with Trend Net AI Protection offering built in malware protection and parental controls.
Inside is a 1GHZ dual core processor, however there is a separate dual core processor which is dedicated solely to 5G Hz 4×4 Wi-Fi related tasks. Asus claim the design has been inspired by the gamer centric ASUS Republic Of Gamers G Series notebook range.
Specifications:
Processor: Broadcom BCM4709 (1ghz, 2 core) and Quantenna QT3840BC (500mhz, 2 cores)
Interface Type: 1x RJ45 for 10/100/1000 Gigabits BaseT for WAN
4x RJ45 for 10/100/1000 Gigabits BaseT for LAN
1x USB 3.0, 1x USB 2.0 for 3G/4G sharing, AiCloud, Media Server, HDD sharing, SAMBA, FTP server and printer server.
Antenna: 4 x External detachable antennas
Memory: 128MB Flash/256MB DDR3 Memory
Operating Frequency: 2.4GHZ, 5GHZ
Data Rate: 802.11AC: up to 1,734 Mbps
802.11n: 2.4GHZ: up to 600Mbps: Up to 600Mbps
802.11a/g: Up to 54Mbps
802.11b: Up to 11Mbps
Output Power (max): 2.4GHZ – b mode: 25 dBm for each antenna
g mode: 23 dBm for each antenna
n mode: 23 dBa (BW 20mhz) or 18dBm (BW 40mhz) for each antenna
802.11ac Specification: MIMO: 2.4GHZ 3×3, 5GHZ 4×4
Multi User MIMO (MU-MIMO)
Beamforming: standard based and universal
256QAM high data rate
20/40/80 MHZ bandwidth
Buttons: WPS Button, LED on/off button, Wi-Fi on/off button, power button, reset button.
Encryption: 64/128 bit WEP, WPA/WPA-2-TKIP/AES-PSK
WPA/WPA2-Enterprise
Mode: Router, AP, media bridge
Physical Dimensions: 290x166x50mm