Rapper Jay Z has (re)launched the Tidal streaming service with a new plan to make it a more profitable way for artists to share their music with the world. To commemorate the occasion, he, along with a number of other high profile artists all signed a "declaration," at the service's launch ceremony, which had the likes of Kanye West, Madonna, Daft Punk, Jack White and Nicki Minaj in attendance.
Much like a combination between Spotify and Youtube, the subscription based platform will offer video and audio content from all artists that it signs on, as well as what's described as "exclusive experiences," though you have to wonder how any digital content won't be pirated and made available elsewhere under that sort of model.
However, what may make Tidal stand out, is that fact that it's legacy – before Jay Z bought it as part of his purchase of WiMP owner Aspiro for £37 million – is the streaming of high quality music, something that's a bit harder to find elsewhere. It's tracks are streamed at datarates up to 1,411 kilobytes per second, more than four times the quality of Spotify's high-end 320kbps streams.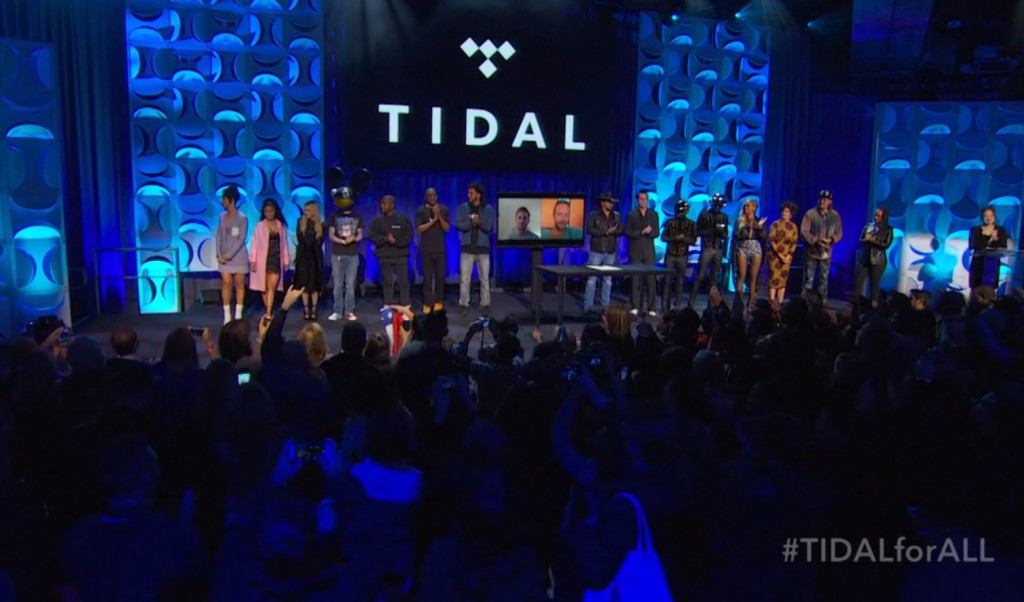 For those considering sitting through the unskippable launch ceremony, there's a lot of self congratulatory clapping
On top of that, Jay Z's service clearly has the support of a number of artists. Taylor Swift has symbolically added her catalogue to the service, following her trashing of Spotify's licensing model, claiming that she earned very little from the platform and that since art was rare, it should have an intrinsic monetary value.
While you could easily argue that point with her, what can't be argued with is that Tidal already has a decent presence around the world. It currently operates in 31 countries according to the BBC and there are plans to launch in six others in short order. It has a catalogue of over 25 million songs, which isn't far off rivalling Spotify's as well as tens of thousands of music videos.
[yframe url='http://www.youtube.com/watch?v=cYYGdcLbFkw']
Its pricing is £10 a month for standard quality music and £20 a month for the high-fidelity streams. It doesn't have an advert supported free version beyond a month's trial which certainly helped Spotify grow in its early days. However, with all of the artist support and the focus on quality, it will be interesting to see if Tidal can make the impact its supporters clearly want it to.
Discuss on our Facebook page, HERE.
KitGuru Says: Although I don't think there's anything wrong with paying artists for the work they do, having a number of the most successful and wealthy musicians in the world sign a "declaration," to join a new platform that pays them more, because they feel cheated in their chosen career path, feels a little distasteful.