Oh boy, it's another Multiplayer Online Battle Arena game guys, this time from Gearbox. I know, I know, you might be thinking that that market is getting as crowded as the open world survival sim and you may be right, but Gearbox is trying something a little different at least.
While we don't know all the details yet, Battleborn mixes things up in a few key ways. For starters, it's a first person title, putting players on the same level as Smite in terms of perspective, though limiting it even more so you won't actually see the character you're playing as. This might make the rather unique heroes harder to differentiate, if, as Game Informer explains, we didn't know that each hero plays very differently and feels so.
[yframe url='http://www.youtube.com/watch?v=uvXi09v8ohA']
Drawing on Borderlands' addictive RPG and looting mechanics, Gearbox seems to be pushing the cooperative element as much as the competitive one, which ties in the story about a galaxy destroying, robotic parasite which you have to gun down. You can see some of that in the non-gameplay debut trailer.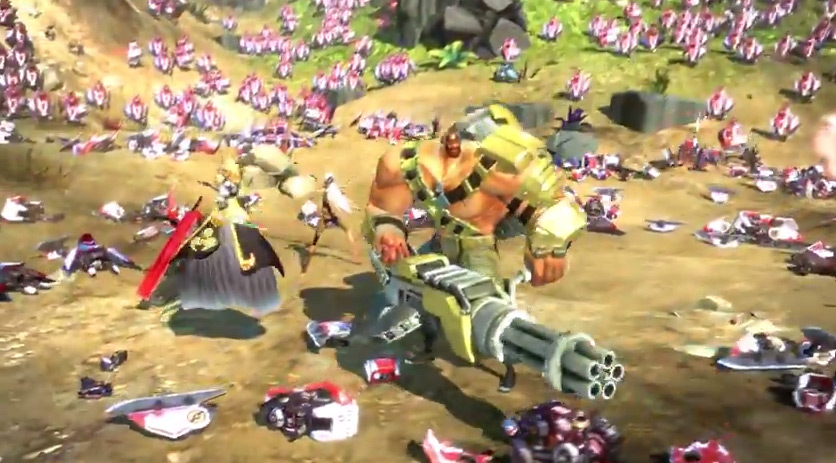 Hey look, TF2's heavy is in it. Sort of.
CEO Randy Pitchford, had this to say about the game: "Battleborn is: FPS; hobby-grade coop campaign; genre-blended, multi-mode competitive e-sports; meta-growth, choice + epic Battleborn Heroes!" I'm sure the developer's PR folk are going to have a blast trying to sum it up in press releases."
That's about all we know about Battleborn for now, but expect more details to come out when this month's issue of Game Informer lands.
Discuss on our Facebook page, HERE.
KitGuru Says: It's pretty and all, but I don't know if the world really needs another MOBA. LoL and DotA have the hardcore crowd tied up, then there's Heroes of Newerth in the background somewhere, Infinite Crisis, the new Dead Island: Epidemic, Smite and oh so many others. I think it's pretty saturated at this point.