The rumours about Samsung's own virtual reality headset have been circulating for several months now. Late on Tuesday the first image of the device showed up on the web along with some additional details regarding the gadget.
Based on the render published by SamMobile, Samsung's Gear VR virtual reality headset is a peripheral compatible with several Samsung smartphones with AMOLED displays. The headset will have a special "See Through" button that will turn on the smartphones' cams and allow users to interact with non-VR world without needing to take off the device. In addition, the Samsung Gear VR will feature a touch-pad that will help to navigate through menus. The smartphones will connect to the Gear VR headset using the USB 3.0 link.
As reported, Samsung's Gear VR will rely on hardware capabilities of the company's smartphones (which integrate accelerometers, gyroscopes, proximity sensors, Hall effect sensors, magnetic sensors and some other sensors which could potentially be used for tracking), so expect the headset itself to be relatively affordable, yet functional. The software side of the platform is designed by Oculus VR, so expect the overall user experience to be quite decent.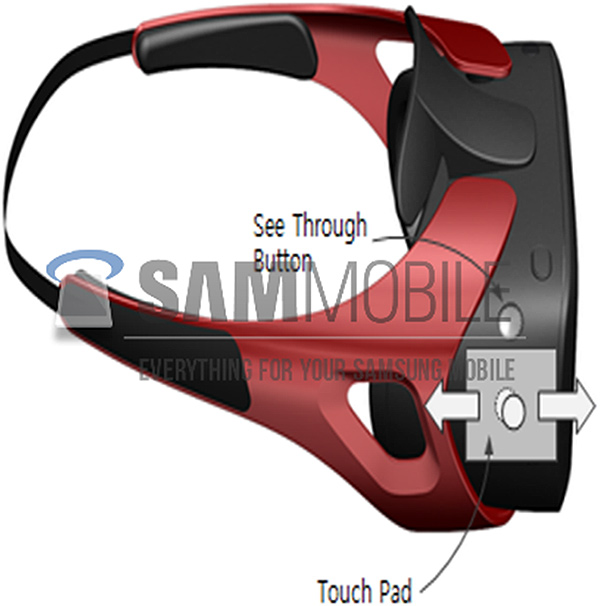 What remains to be seen is whether Samsung's Gear VR virtual reality headset will actually be compatible with PC or console games, or its compatibility will be limited to Google Android titles. If VR games rely on graphics processing capabilities of smartphones, only high-end models will support such titles. If the Gear VR only works with specially-designed Android games and on select handsets, then Samsung will probably have to fund development of Android-based VR games itself simply because game designers have hardly ever considered virtual reality for their mobile titles and will probably be reluctant to invest into an unknown proprietary VR platform.
It is expected that Samsung will announce the Gear VR headset at the IFA 2014 trade-show in September. The Gear VR is projected to hit the market later this year.
Samsung did not comment on the news-story.
Discuss on our Facebook page, HERE.
KitGuru Says: At present there are almost no PC and console games that were designed for vitality reality headsets from the start. Developers of games for Android probably have not even considered VR technology in general at all. It is unclear how Samsung plans to sell the Gear VR without available games.