The original Bloodbowl game from French developer Cyanide, was a pretty faithful adaptation of the Games Workshop tabletop experience. It had all the rules and even some new ones you could tweak and play with, but there was one thing it lacked: life. The original Bloodbowl not only featured many stadiums and players which were wooden, but that age old problem with sports-commentary: after five minutes it's endlessly repetitive.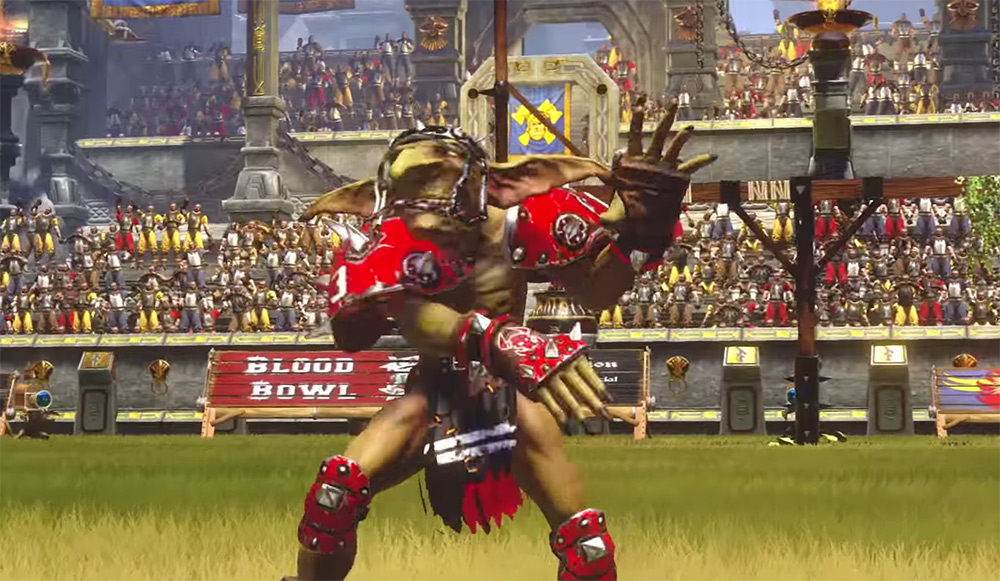 'Smack that, all on the floor…'
The latest trailer for Bloodbowl II however, paints it as anything but. Along with stadiums that now swarm with excited/bloodthirsty fans, the players themselves high-five, smile and interact in much more lifelike ways. Now we just have to hope that the commentators don't get as repetitive as they did last time.
For the uninitiated, Bloodbowl is a game based on one of Games Workshop's smaller tabletop properties. It's set in the Warhammer Universe and blends ultra-violence with American Football to produce a game that's as much about injuring your opponent's team, as it is about scoring. In-fact, some teams do that far better than they handle the ball.
[yframe url='http://www.youtube.com/watch?v=PXTmlWflYJA']
Of course the game is also far prettier this time around – graphics have come on a lot since 2009 – featuring grass tufts that flick up as player's run across the field, much more detailed character models with expression-able faces and stadiums that seem much, much busier than before.
Unfortunately we still have to wait until next Spring for the game to be released on PC, but Cyanide did announce along with the trailer that Bloodbowl II would also be coming to Xbox One and PS4 at some point.
Discuss on our Facebook page, HERE.
KitGuru Says: This gets me pretty pumped. I might have to get some practice in on the original while I wait. Maybe a KitGuru league is in order once the new game launches?