Poor old Double Fine. It's not having the best of times as of late. In the past few months it's managed to annoy gamers by releasing Spacebase DF9 early and somewhat unfinished because the money just wasn't there for its continued development. It's let a dozen staff go from an unnamed project because a publisher pulled out and now the second act of the overbudget but pushed back adventure title, Broken Age, has been delayed once again.
Announced via the official Double Fine forums in a backer update (and later in a more general thread so everyone knows what's going on), admin Greg kept the tone upbeat, but still delivered the notice that Broken Age act 2 wouldn't appear until 2015.
"That means, as you may have guessed based on recent updates and documentary episodes, the Act 2 ship that will deliver the complete adventure is now looking like it will be early next year," he said. "The game is looking really good and the team is working super fast, but we just gotta give the game the time it needs to really deliver on everything we're hoping it will be."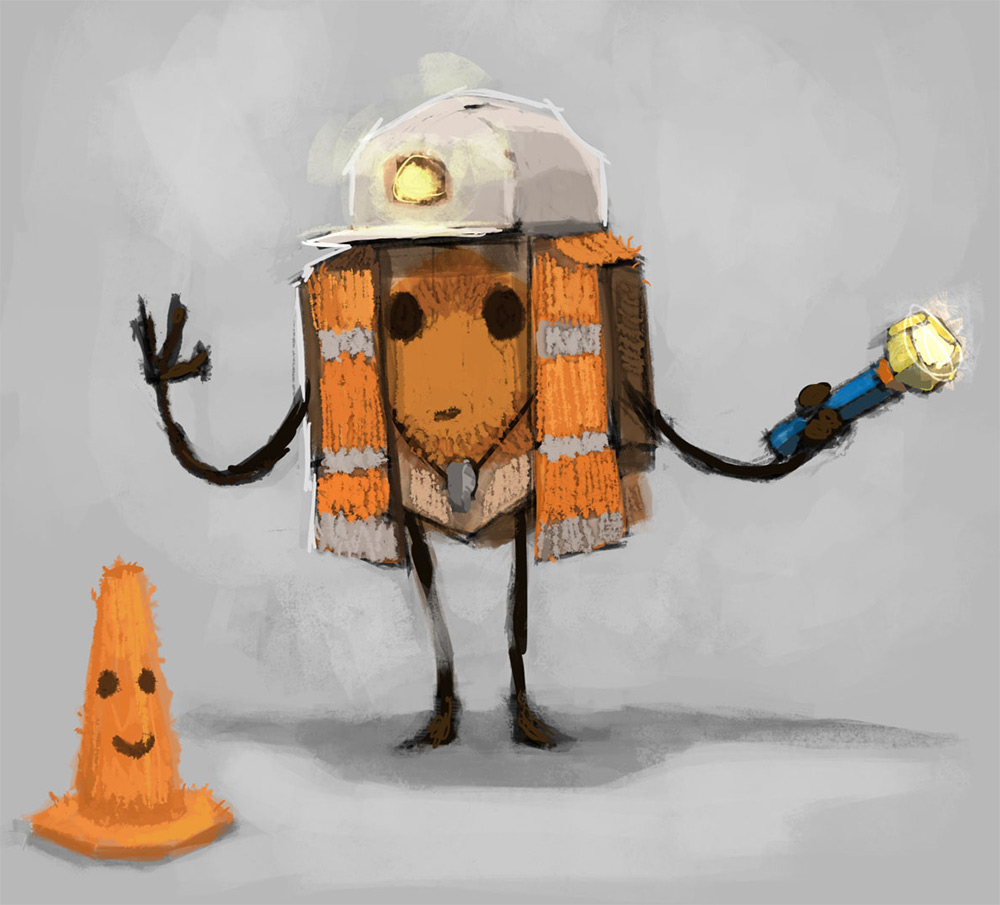 "Sorry for the delay… here's a cute construction robot to say sorry."
In terms of the game's current status, both character perspectives in the game are going through internal alpha testing, all of the voice over has been recorded and some segments are even about to hit beta. However the final act is still incomplete in several ways, hence the push back to '15.
Of course in a climate of developers/publishers like Ubisoft and EA, it's nice to see a developer keen to push back a release date until a game is ready and not a bug filled mess. But that said, Broken Age is a game that's been in development for almost three years at this point.
Initially planned for an October 2012 release, the Kickstarter went massively over its original $400,000 budget, giving Double Fine cause too expand its original scope for the game. Unfortunately though, it fell into the trap of a lot of high-flying Kickstarters have since and pushed development too far beyond the original scope of the game, soon finding itself running out of funds. That's why Broken Age is split as it is, because without selling copies of the first half, Double Fine wouldn't have been able to fund development of the second.
Discuss on our Facebook page, HERE.
KitGuru Says: How do you guys feel about another Broken Age delay? Are you just happy to see it being pushed back so that it's perfect upon release, or is it about time Double Fine gave us the game it promised in 2012?