If like me you're counting the hours until the Evolve beta goes live on PC later today, then chances are you need something to tide you over until this evening. What better way to pass the time then, than by watching some test footage of the game's fourth and largest monster, Behemoth.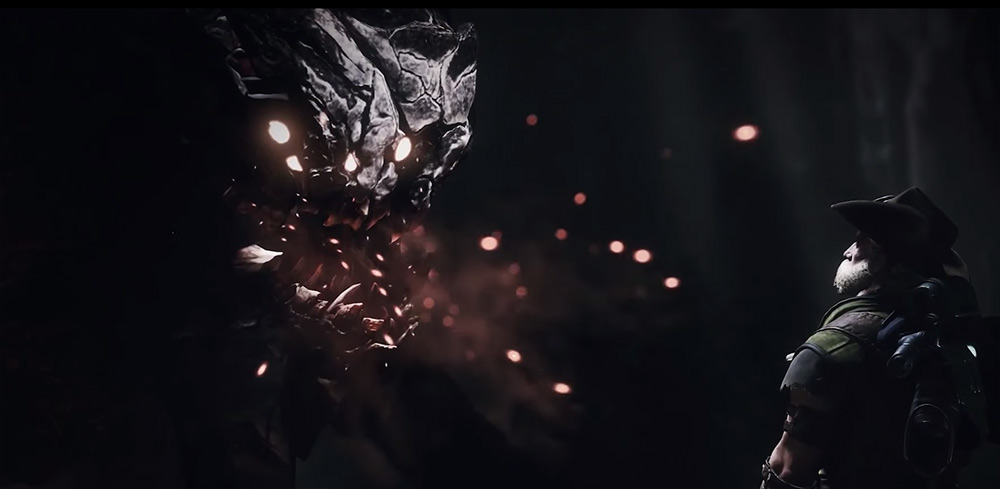 It was only recently that we got our first look at the third monster, Wraith, so it's surprising that we're finding so much out about Behemoth this early in its production. However, considering Turtle Rock did tease its silhouette and ask the community for a name for the beast, it has involved fans since the beginning of the monster's life cycle.
[yframe url='http://www.youtube.com/watch?v=1D6PjHM5gV0′]
At this stage, it's still early days, as lots of its abilities haven't got finalised animations and effects, but one thing is clear from the footage: Behemoth is enormous. In the above video, we learn that Behemoth is as big as the game will allow for a monster, so don't expect a Jhen Moran to show up in the future. Of course that means it comes with buckets of health and armour, but it's also very cumbersome. It can't jump and is a slow climber, but Behemoth can pick up speed by rolling along like an Uragaan (ok that's the last Monster Hunter reference).
Other abilities include the slinging of "lava bombs," which can set fire to an area, a ground based fissure attack, a pull ability using its tongue and the coolest of them all, the ability to create a giant wall of rock. That rock-wall lasts a few seconds and can be used to separate hunters, prevent their escape, or to give Behemoth time to build up speed and get away itself.
Behemoth is set for release as DLC shortly after the game's launch on 10th February, for $15, or you can get it free if you pre-order the game.
Discuss on our Facebook page, HERE.
KitGuru Says: If any of you are around later today, keep an eye out for "Whoopty" on hunt mode. I'll be taking on all comers with my harpoon gun.