Despite being one of my most hotly anticipated games of the year and certainly one of the best teased in recent memory, we still don't know a lot about Evolve. We know there's more than what we've seen with extra monsters, hunters, maps and modes, but there's a lot still behind the velvet curtain. While the developer Turtle Rock is staying mostly tight lipped for now, it has opened up about some of the changes Goliath has gone through over the past few years of development.
One of the biggest overhauls came when he was changed from his original, crustacean like, red armoured form into the much more muted, grey and stealthy beast we know today. Turtle Rock also said in its chat with Games Radar, that Goliath was the game's most straight forward monster and was ultimately created after the monster team settled on an amalgamation of King Kong and Godzilla. Rock throwing, climbing and stomping from the world's favourite doomed ape and fire breathing for the new stomping threat to humanity that Brian Cranston is currently fighting off in cinemas everywhere.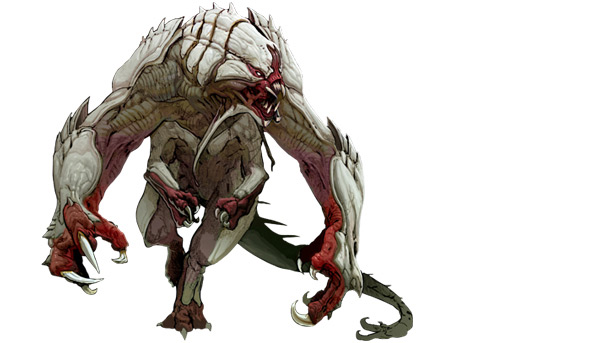 We should have twigged about the early influences on Goliath, which was once named Scorpid, thanks to the released early-concept art for the beast. It features layered armour and an extra pair of T-Rex grabby arms around its mid-section.
Originally the above fella' was pretty red in colour, to match his crab influences, but eventually became the grey tone he is now, to help blend into the jungle more. However, Turtle Rock has already promised a new angry-red, retro skin for the Goliath if you pre-order the game, and hinted at further colour iterations in its interview, suggesting each monster could have several colour variants. Here's hoping DLC packaged colours won't give too much of an advantage on certain maps when it comes to camouflage.
The final bit of information gleaned from the developer was a bit of non-information. Ultimately, the team hasn't come up with an origin story for Goliath, as the hunters don't know where it came from, likewise with the other aliens. For the most part, humans have got a handle on things on planet Shear, but then this guy shows up and causes all sorts of problems.
KitGuru Says: I am pretty damn psyched for this thing. Here's hoping it builds up a pretty good community, since it sounds like you'll need a full team to stand much of a chance of taking down these monsters.