Harmonix might be most well known for kickstarting the rhythm game trend in the latter half of the 'oos, but it's been working on many other games since Rockband died off. Whether it's the Dance Central series though or an interactive version of Fantasia, Harmonix is always working with music, so it's not too surprising that its first VR project does the same. However it isn't so much a game, but a virtual reality visualiser for your personal collection.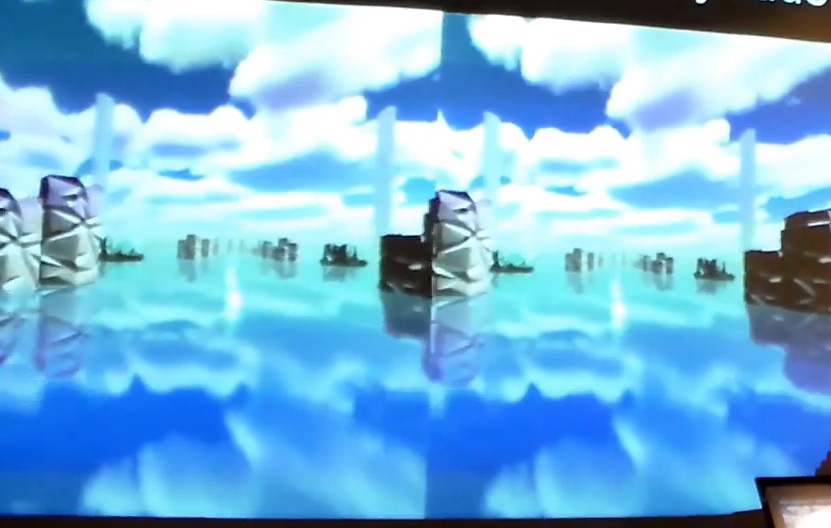 Much like the standard visualisers that you get as part of Windows media player, or some of the fancier ones that you can pay a few pounds for, Harmonix's will send you on a visual ride along with your music. However, being in virtual reality, Harmonix wanted to make it a little more interactive, with the player's gaze sending them on a journey through the visuals being shown.
[yframe url='http://www.youtube.com/watch?v=V85z2KmpaqI']
For those wanting a quick demo of what they're talking about, jump to 4:20 and 7:30
Explained in the somewhat lengthy video above, taken during a Boston VR meetup, Harmonix has created several scenarios that apply to different genres and can be changed on the fly depending on the intensity and pace of music being listened to. If the track is quiet and relaxing, a beach scenario with flying birds and rolling shores of colour might be shown, though if it's something more aggressive the visualiser might opt for some harsher colours and thumping fractals instead.
As part of this development though, Harmonix explored a lot of the difficulties with developing VR. Certain movements were problematic for first time VR users, especially going backwards and any heavy acceleration. Funnily enough, jump cuts were the least jarring way to move around, but only if momentum was maintained. It also addresses issues with body dysmorphia in VR, whereby your avatar (or lack of one) doesn't look like the real you. To counter that, Harmonix's system just fades to black if you look down at yourself.
Discuss on our Facebook page, HERE.
KitGuru Says: Although Audiosurf would have been my go to music 'viewing' experience a few years ago, a simple fireworks visualiser on the DK1 sold me on music in VR. Although this looks to be solely developed for the Gear VR, I'm interested to have a go with what Harmonix has been working on.