If you were excited by the idea of playing as Mega Man, Villager, Wii Fit Trainer or Little Mac in the upcoming Wii U and 3DS Super Smash Bros game, then you'll probably be interested to learn that they aren't the only newcomers to the party. Both Charizard and Greninja Pokemon will be fully playable characters, neither requiring a secondary trainer character to use them.
This announcement came yesterday as part of the latest Nintendo Direct address and brings the total number of playable characters in the game to 29, suggesting there must be one more reveal to come. These two latest ones join Lucario and Pikachu to make four separate characters from the same franchise, which brings it in-line with the Mario Games in terms of character choice.
Other news we learned in the address, includes the fact that old characters like Zero Suit Samus (who will also be a selectable character) have been upgraded, in her case with Rocket Boots. Sheik has new moves like bust grenade and bouncing fish, while Yoshi will stand up straighter instead of acting like he's waiting to be mounted.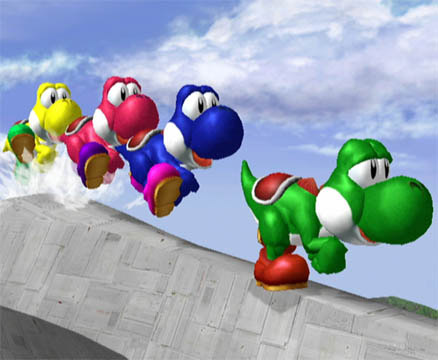 Yoshi's previous pose wasn't the most threatening. Source: Tumblr
There will be a distinct difference between the 3DS and Wii U versions, with the former's levels inspired by handheld games, whilst the latter will be based mainly on previous home console creations. Players will have bosses to fight as they progress through the game, though they can use these to their advantage to have them attack other players.
When offline players will also be able to craft their own movesets for characters, though that feature will be disabled for online competitive play. Nintendo also teased elements that would link both the console and the handheld version of the game together, though it wasn't very clear on how.
Smash Bros Wii U will launch in Winter 2014, whilst the 3DS version will become available sometime this summer.
KitGuru Says: The last few Smash Bros games have been huge hits in my house, so I've no doubt this one will be too. It's a shame it's going to take so long for it to come out on the Wii U though, Nintendo could really do with another big seller to get units shifting, even if Mario Kart 8 is just around the corner.
[Thanks
AGB
]