EA has canceled Dawngate, its upcoming free to play MOBA title, which was in development at Waystone Games. The title has been in development for some time and has been in open beta for the last six months, it also had a fairly large presence at industry events over the summer, such as E3 and PAX.
Dawngate servers will officially shut down in around three months time. "Today, I have the unenviable task of announcing that we've decided to stop development of Dawngate", Watstone Games General manager, Matthew Bromberg, wrote in a statement.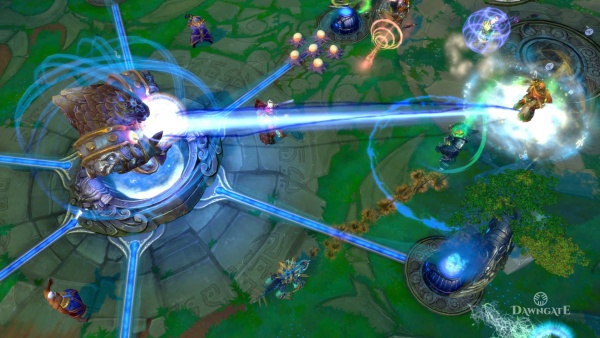 "I know this is disappointing news for our community, which has been so supportive and loyal. To all of you who have graciously given us your time and valuable feedback during our beta period, we'd first like to thank you."
According to Bromberg, Dawngate wasn't simply a clone of other MOBA titles, such as Dota 2 or League of Legends, but rather a game that "truly pushed the genre forward in many ways". Ultimately, after eighteen months of beta testing, six of which were open to the public, the development team just wasn't seeing the progress it has hoped for.
"This isn't the outcome we wanted, but beta testing is about learning and improving, and ultimately, about making difficult decisions about how to proceed". Those who spent any money on the game during its time in beta will be provided with full refunds, the game will continue to be playable for around 90 days.
"On behalf of the entire team at Waystone Games and EA, I want once again to thank all our players for being part of this journey. Your straight-up feedback and the friendly reception we received all over the world at events was extremely encouraging and important to us. We appreciate it."
It isn't yet known if Dawngate's cancellation will result in layoffs at Waystone Games but hopefully EA can shuffle a few developers around and find new places for them in the company.
Discuss on our Facebook page, HERE.
KitGuru Says: Dawngate was actually a pretty fun game, although with so many MOBA titles due to come out over the next year, it's hard to see if they will all be successful. Did any of you guys try out Dawngate? What did you think of it?