Qualcomm this week introduced its first system-on-chip for new-generation smart TVs, smart set-top boxes and smart digital media adapters at the Consumer Electronics Show. The new Snapdragon 802 chip features high-performance Krait general-purpose cores, powerful Adreno 330 graphics engine as well as advanced video engines and necessary input/output interfaces.
Qualcomm Snapdragon 802 integrates four Krait general-purpose cores, Adreno 330 graphics processing engine, Hexagon digital signal processor (which supports Dolby Digital and DTS surround sound technologies), Qualcomm's Hollywood Quality Video (HQV) processing engine that supports up-converting of 1080p content to ultra HD resolutions (e.g., 3840*2160 pixels), 4K video decoder, memory controller and so on.
The Snapdragon 802 system-on-chip includes features designed by Qualcomm specifically for TVs, such as broadcast, analog and digital I/O interfaces. In addition, the chip sports dual-band Qualcomm Vive Wi-Fi 802.11ac controller.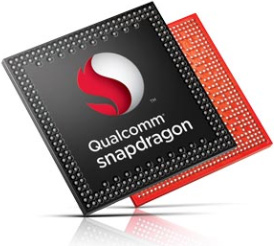 High performance microprocessor and graphics processor should enable devices based on Snapdragon 802 to support high-quality video games and rich graphics user interfaces in addition to high-quality video playback and support for up-converting to 4K resolution. In order to simplify development of consumer electronics devices powered by Snapdragon 802 and Android operating system, Qualcomm has developed a custom Google Android software framework based on Kit Kat version of the OS.
The Snapdragon 802 processor will begin sampling early this year and is expected to be in commercial devices by late 2014, according to Qualcomm
"In addition to offering our expertise in the smartphone space, we also are introducing capabilities specific to the smart TV space, which enable our customers to redefine the smart TV category by combining the best of both TV and smartphone experiences," said Murthy Renduchintala, executive vice president of Qualcomm Technologies. "Combining the efficient integration of our Snapdragon processing and connectivity components with Qualcomm Technologies' demonstrated expertise in Android will enable the ultimate home entertainment experience with compelling new ways to watch, play and interact."
KitGuru Says: Google Android operating system for consumer electronics seems promising, especially keeping in mind how good mobile games and programs are nowadays. But will Adreno 330's performance be enough for games in 4K resolution?