We have already reviewed the powerline adapter portion of the AV500 WiFi kit which can be viewed here.  In this section we will focus on the AV500 WiFi adapter which is supplied as part of the kit.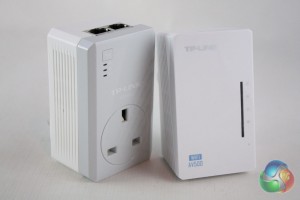 The WiFi adapter is finished in gloss-white plastic and features a series of LED indicators on the front.
Like the powerline adapter, the WiFI adapter features twin Ethernet jacks in the bottom which let you use it for a physical connection too.
Perhaps the most interesting feature of this range extender kit is that it connects to the router through a building's electrical wiring rather than simply repeating a wireless signal.  This means you can position it further away from your main router, giving you wider wireless coverage.