A new partnership between NETGEAR and Midwich is set to extend NETGEAR's reach into the UK Pro AV market with the company's range of M4300 and M4500 managed network switches designed for AV over IP systems.
The new deal will see Midwich become the UK and Ireland distribution partner for NETGEAR products designed for AV over IP, such as the M4300 10 Gigabit 16x managed switch. The deal with Midwich will begin on 11th March 2020 and will add to the company's already extensive range of AV over IP solutions for commercial and Pro-AV customers.
"We're excited to be partnering with Midwich and working with their experienced teams to expand NETGEAR's penetration into the UK & Ireland Pro AV market," said Oliver Randall – Regional Director, NETGEAR UK.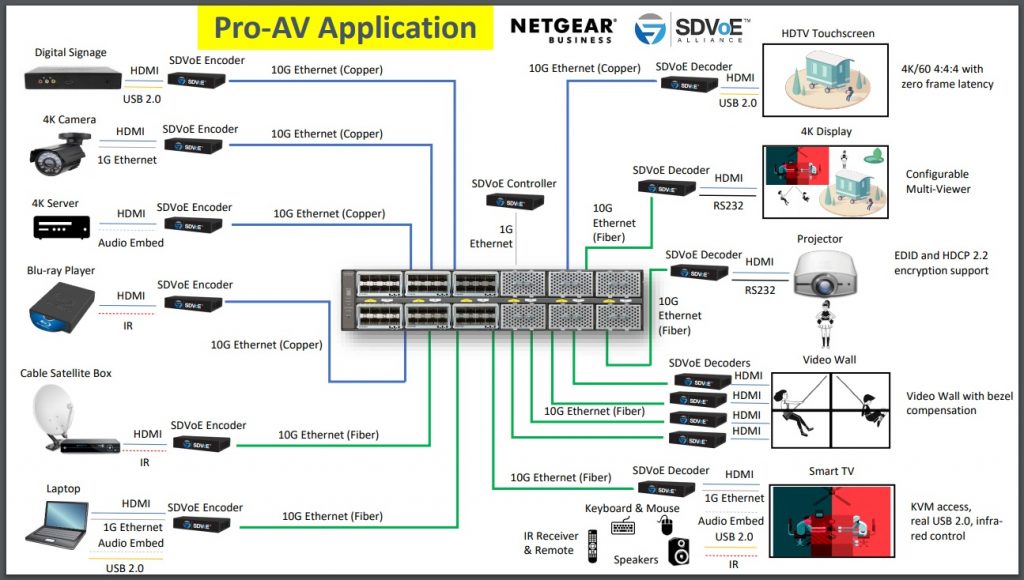 The distribution agreement between the two companies will cover the NETGEAR M4300 10 Gigabit line as well as the M4500, 100 Gigabit network switch series. Both these product lines are designed to address the growth of AV over ethernet and are purpose-built to streamline AV over IP solutions. Both the M4300 and M4500 are pre-configured for easy, true AV and Multicast Zero Touch Network Configuration.
Full NETGEAR M4300 and M4500 products available from Midwich include:
NETGEAR M4300 16X, managed switch with 16x10GBASE-T ports and APS299W PSU
NETGEAR M4300 24XF, managed Switch with 24x10G SFP+ ports.
NETGEAR M4300 48XF, managed Switch with 48x10G SFP+ ports.
NETGEAR M4500-32C, managed switch with 32x40G/50G/100G QSFP28 ports, 2xPSUs and 6xFan trays
NETGEAR M4500-48XF8C, managed switch with 48x10G/25G SFP28 ports and 8x40G/50G/100G QSFP28 uplinks, 2xPSUs and 6xFan trays.
Discuss on our Facebook page HERE.
KitGuru says: Any of you guys into pro AV setups? Have you tried any of these AV over IP switches from NETGEAR yet? Let us know what you think of them in the comments section below.