Although the UK has always lagged behind other nations when it comes to average download speeds, there are areas where it is better than others. London of course enjoys some of the highest speeds in the country, but what about the worst? If you live in Wales, big chunks of the south west or the north west, you're probably languishing compared to the rest.
The average connection speed in areas like the capital, Middlesbrough and Bournemouth is upwards of 45Mbps, with other cities like Birmingham, Nottingham and Liverpool also enjoying high connection speeds. However if you move into more rural areas like Devon, mid and western wales and specifically around the Lake District, the average is a much less impressive 17Mbps.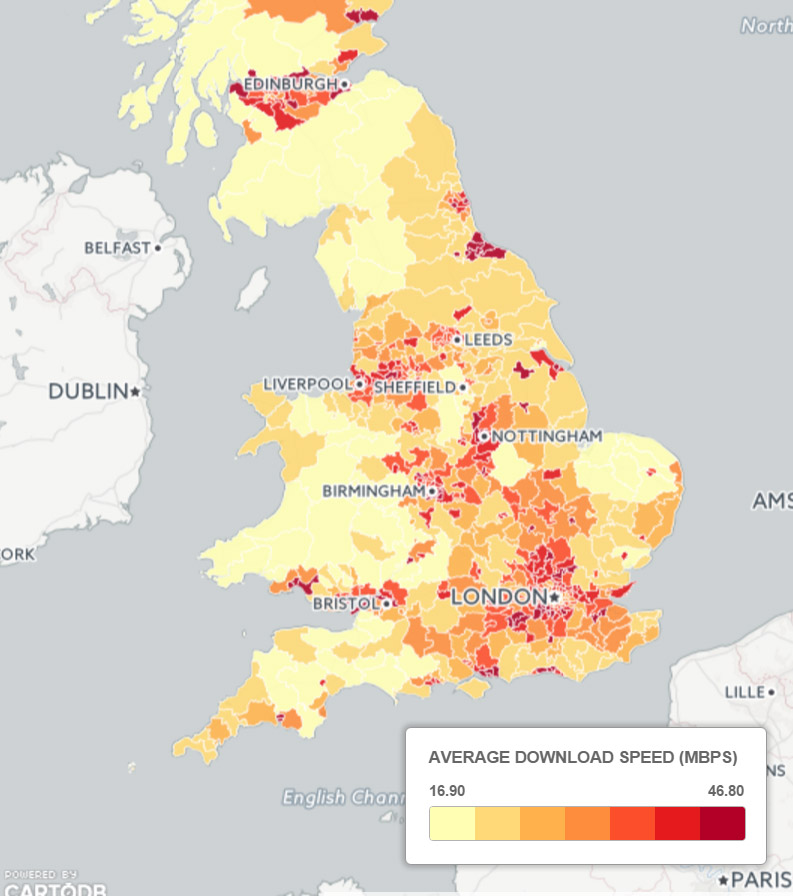 Source: James Titcomb
These figures come from Ofcom's Connect Nations 2015 report (via Telegraph), which paints the overall national average speed as just under 30Mbps, even though some areas have access to connection rates as high as 200Mbps.
Because many areas in the UK, even built up ones still have sub-standard connection speeds, the report has prompted a number of MPs to petition for BT to be separated from its OpenReach platform in order to facilitate a faster roll out of high-speed services around the country.
The government has previously pledged to make sure everyone in the UK can connect at upwards of 24Mbps by 2020, with several hundred thousand homes equipped for 300-500Mbps by the end of that year.
Discuss on our Facebook page, HERE.
KitGuru Says: What's the connection speed like in your area? We only received access to fiber in the last few months, but even with a pricey plan it's still sub 50Mbps.