Google may have just revealed the most stylish looking router ever with its new offering known as the OnHub. Now if you were wondering why it is shaped a bit like a bin, there is apparently a technical reason for that- Google says that the cylindrical shape will help provide more consistent speeds and connection reliability.
The router is built in partnership with TP-Link and promises WiFi that is "fast, secure and easy to use". The OnHub has a pretty high-end spec sheet as well, featuring 2.4 GHz and 5 Ghz frequency bands, 13 antennas and up to 1900 Mbps speeds over a wireless AC connection.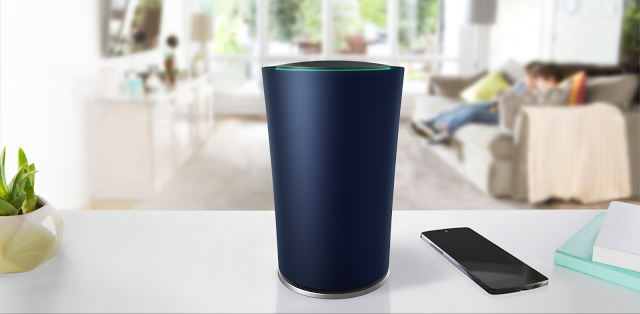 As you would expect, the OnHub also has companion apps for smartphones, allowing users to check bandwidth, network status or quick access to the WiFi password. As far as price goes, the OnHub is pretty reasonable as well, with a $200 price tag over in the US.
Google went in to plenty of detail about its new router in a blog post of its own, where it also teased another router from a second partner, ASUS, later on in the year. The OnHub starts shipping at the end of August in the US, with Canada following shortly after, Unfortunately,  UK availability is unknown at this point.
Discuss on our Facebook page, HERE.
KitGuru Says: Google has been expanding in to 'smart home' territory for some time now, so the fact that it is branching out in to routers isn't too surprising. Are any of you serious about your WiFi routers? Do you just stick to the one the ISP hands you?