Over the last year, working and learning from home has boosted internet traffic dramatically, leading to +38% downstream and +56% upstream usage. With all of that extra load to deal with, upgraded WiFi systems are becoming more of a necessity. This is where the new Netgear Orbi Quad-Band Mesh WiFi 6E comes in, offering huge gains in capacity and speeds. 
Today, Netgear is launching the Orbi Quad-Band Mesh WiFi 6E –  the industry's first quad-band WiFi 6E Mesh system. The 6GHz band offers two times the capacity over 5GHz, and combined WiFi speeds can reach up to 10.8Gb per second. In addition to the best WiFi speeds, ethernet has been increased to 10Gb, creating a futureproof solution for in-home and business connectivity.
The Orbi Router is joined by Orbi Satellite access points with a dedicated backhaul, providing multi-gigabit internet throughout the home. The connection between the router and each access point is not shared, removing potential interruptions to traffic. This also reduces the number of steps the connection needs to get through to a device.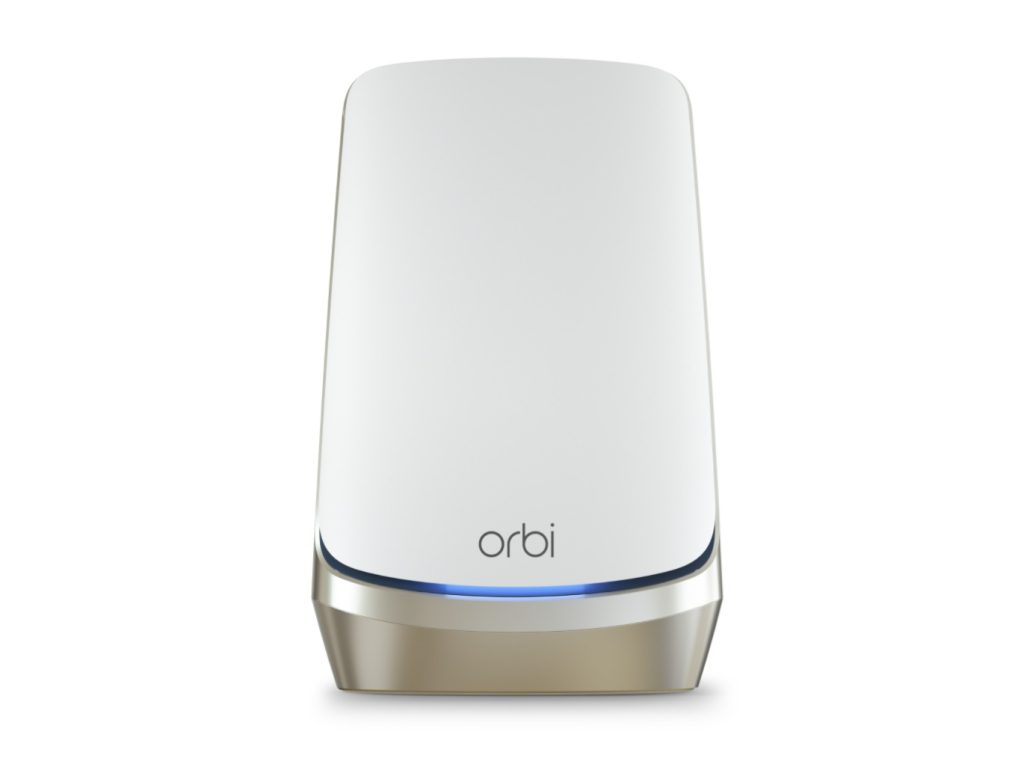 Orbi's 6GHz band allows up to seven 160MHz channels, ensuring throughput in crowded environments. 5GHz routers only have one clean 160MHz channel, so crowded environments, such as neighbourhoods, result in performance drops. The new Orbi Quad-band Mesh WiFi 6E system also touts 16 streams of 4×4 WiFi on every band.
Thanks to a new design changes to the WiFi radio and dipole antenna, 5GHz WiFi also sees significant improvements, with up to 30 percent better coverage. The new router also comes equipped with a 10G ethernet port, and a 2.5G ethernet port, followed by an additional three 1G ethernet ports. Netgear's research shows that many users like to use ethernet connections whenever possible, so they have doubled down and included a lot of them. Not only does the router have high-speed ethernet ports, but each Orbi satellite also includes multiple ethernet ports, allowing them to be placed more centrally throughout the home. With a router and three satellites, you'll have 12 ethernet ports to work with.
There are four separate WiFi networks to choose from when connecting devices – Home Mesh, WiFi 6E, IoT WiFi and a guest network. With this, you can separate legacy and IoT devices for efficient bandwidth use, so smart home products can have their own dedicated network, while your PCs, phones, consoles etc are connected to their own network.
All of the specifications and design decisions for this new Orbi Mesh system have been made with futureproofing in mind, Netgear has also ensured that setup and installation is easy through the Orbi App, which can be used to monitor the network map, speeds, connected devices and adjust security settings from a smartphone or tablet. Smart parental controls are also in place so you can set up specific rules, such as total internet time allowed on a per day basis. There is also the option to subscribe to Netgear Armor, which provides additional security tools and a built-in VPN.
The Orbi Quad-Band Mesh WiFi 6E will be available soon in two bundles. The router and two satellites will cover 9000 sq. ft and is priced at £1499, while the router and one satellite covers 6000 sq. ft and costs £1099. For the first time, there will also be a limited Orbi Black Edition, marking the first time that an Orbi WiFi setup has been available in a black colour scheme.
Discuss on our Facebook page, HERE.
KitGuru Says: Are any of you looking to make the jump to a new mesh WiFi system? What do you think of the new Orbi setup?