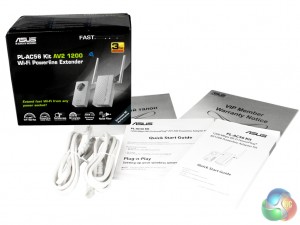 The packaging contains two adapters, with a pair of ethernet cables to connect each of them to your router and a single client PC. And of course the usual quick-start guide and VIP stuff you get with every Asus product.
The first, smaller adapter, the PL-E56P, has passthrough for power, and relatively few other aspects of note. Importantly, this adapter HAS to be connected to your router, you cannot use it as a client and get full speed.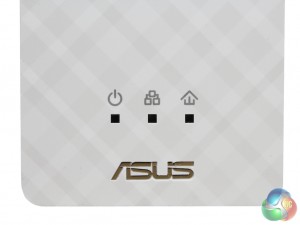 There are three LEDs at the bottom indicating power, power line connectivity and network connectivity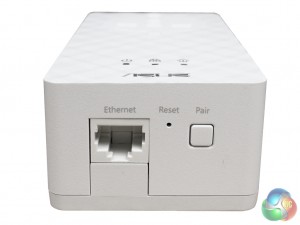 There's just one ethernet port on the bottom and a pairing button. The reset hole is really tiny. As in really really tiny. Only a pin can be used with it.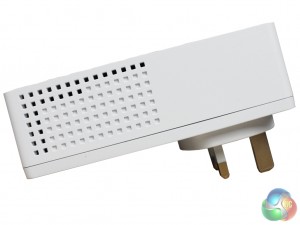 There's a thermal exhaust on the side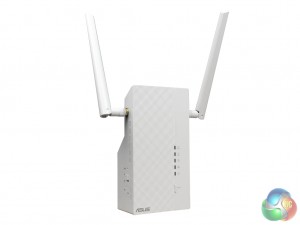 The second PL-AC56 unit is much larger, as we mentioned on the previous page. The two external antennas are quite large, and there's no passthrough for power.
We've seen this look before. The Asus RP-AC56 (Review HERE) is a wireless repeater with two external antennas, which plugs directly into a wall socket, and looks almost identical.
It doesn't do power line ethernet though, so there are only three lights on the front of that unit.
There are five LEDs at the front of the PL-AC56, with two for power status and power line connectivity, one for ethernet, and a pair for 2.4GHz and 5GHz wireless status.
And there's a clone button as well, to copy your wireless router's settings and simply set the PL-AC56 to extend its coverage. Just press the WPS button on your router, then the clone button and it should all be set up.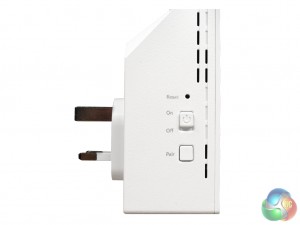 There's a manual power switch and a pairing button, with the same tiny hole for resetting the device.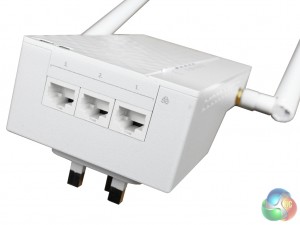 And you can see the three power line Ethernet ports underneath.
Lastly, the ubiquitous shot of the device (at least, the larger of the two adapters) plugged into a wall socket. Despite its extra size, the PL-AC56 does not obscure the nearby socket, although some large power packs may have trouble squeezing in next to it, particularly if there are tall enough for the antennas to get in the way.