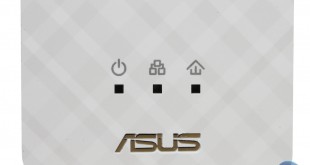 The Asus PL-AC56 Kit is an AV2 power line networking kit, supporting dual-band wireless connections over 802.11ac or 802.11n, or up to three desktop PCs over Ethernet, carrying data straight to your router over the electricity wires in your home, with quoted (theoretical) speeds up to 1200 Mbps.
We only recently covered the Asus PL-N12 Kit (Review HERE) which is a fairly inexpensive set of AV power line networking adapters, one of which has built-in 802.11n wireless hardware to provide extended connectivity for smartphones, tablets and so on, in addition to a pair of wired Ethernet ports at the bottom for desktop computers.
In that review, we did wonder whether Asus would have something a bit faster in the pipeline.

We have our answer with its bigger brother, the Asus PL-AC56 Kit. It's exactly the same idea, with two adapters, one of which connects directly to your router with an Ethernet cable, then into a spare plug socket, while the other one is connected to a plug socket further away, and then you can connect devices to it, with data shared over the electricity wires in your house.
But everything has been upgraded with the Asus PL-AC56 Kit. It's now offering 2×2 802.11ac rather than 802.11n wireless. It supports the upgraded AV2 standard and the physical size of the devices has increased, with the large adapter now using external antennas.
The two adapters in the kit are known by different names, the larger is called "PL-AC56" while the smaller device, which connects directly to your router, is called "PL-E56P". This smaller adapter has a electricity pass through on the front, so you don't lose a plug socket, and its small enough to be used comfortably with other devices plugged in next to it. It only has a single Ethernet port underneath.
The larger adapter has three gigabit Ethernet ports though, so you can extend three desktop computers (in addition to the wireless devices that connect to it).
Powerline adapters are an alternative to wireless as a method for extending your home's network coverage. In general, speeds drop off quite severely with power line Ethernet when you're further away from the router, with the addition of interference from other devices and lower speeds with older wiring.
From one end of a typical house to the other, with an AV1 kit, you sometimes don't get great results. With the better speeds of AV2, you should still expect enough bandwidth for file transfers and streaming HD video without hiccups. And it's fully encrypted, with the two adapters paired, keeping other adapters on the same circuit out of your network.
It carries a premium price tag. Indeed, you can purchase competing AV2 adapters for quite a bit less than Asus is charging for the PL-AC56 kit, but the cost comes from the built-in 802.11ac WiFi. Asus is directly competing with the top-end models from the likes of Devolo and its DLAN 1200+ WiFi AC kit, which costs exactly the same, for a roughly similar feature set.
How does Asus compare? Let's check it out.
Price: £159.99
Specification:
Wireless protocols: 2×2 802.11ac (1200Mb/sec), 802.11n, 802.11a/g, 802.11b
Antenna Configuration: 2×2 External Antennas
Wired protocols: Gigabit Ethernet
HomePlug standard: AV 1200
Encryption: WPA/WPA2-PSK, WPA/WP2 Enterprise