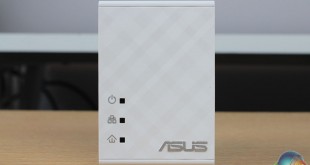 The Asus PL-N12 WiFi HomePlug AV500 Powerline Adapter kit is a relatively simple pair of adapters that simultaneously extend network range over both power lines and wireless. Designed for affordability, with support for wireless standards up to 802.11n, it supports an encrypted wired signal over power lines, adds a second Ethernet port to the main access point and has a useful standby mode to cut energy use when idle.
Networking kit is best thought of as part of the 'plumbing' of your technology setup. Rather than being a centrepiece that actively improves the visual fidelity or frame rate of games, good networking kit fades into the background, and when working at its best, you barely notice it's there.
That very much applies to wireless extenders, adapters and power line networking kit, such as the PL-N12 from Asus. Designed to carry networking data over a power line, it also has a small wireless network built into one of the two adapters – allowing you to extend your network to both wired PCs and mobile devices too.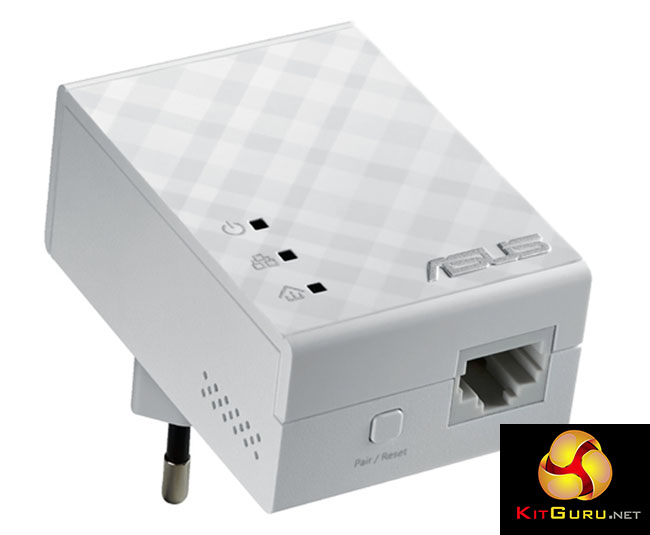 This might be very useful in a house where a router's wireless signal alone is slow in some rooms. Extend the connection over the power line and you'll get a better signal using the internal antennas in the power line adapter.
Like most similar kits, it comes with two different adapters, the smaller of which is technically called the PL-E41, and is meant to sit next to your router and send out the signal to the other, larger device, called PL-N12. You can hook up two wired computers to it, and it support the AV500 standard, which means there's 1Gb/sec of bandwidth split equally with 500Mbps up and the same speed down.
Asus hasn't gone crazy with the specification. 802.11ac is not supported, presumably as a means to keep costs down, but it also makes some logical sense, given that performance will be bottlenecked by the transfer rate of the power line connection. The faster speeds of 802.11ac would be wasted with such a device.
Instead, the maximum wireless speed is 300 Mb/sec running over 2.4GHz 802.11n only, with 54 Mb/sec 802.11g and 11 Mb/sec 802.11b supported too.
And there's no gigabit Ethernet, as the ports are 10/100 BaseT Fast Ethernet, so the fastest possible speeds you could theoretically see are 100Mb/sec. It's certainly not intended for backing up multi-terabyte archives but instead this modest specification is enough for basic connectivity and the ability to get at least get online.
It has two internal antennas, for good reason. Sitting in a dual-socket plug, external antennas will obscure the nearby socket, making it impossible to plug in other devices, a deal breaker for some users.
Additionally, Asus has added a few features that are useful for power line Ethernet, such as a standby mode, which reduces the potentially significant electricity cost of leaving the devices switched on 24/7, and noise filtering technology, to (theoretically) improve the signal in homes with old wiring or lots of interference from appliances.
There's also 128-bit encryption, useful in locations with shared power lines (blocks of flats or hotels), keeping data safe from other nearby power line users.
Price: £64.99
Specification:
Wireless protocols: Single-band 2.4Ghz 802.11n (300Mb/sec), 802.11a/g, 802.11b
Antenna Configuration: 2×2 Internal Antennas
Wired protocols: 10/100 Fast Ethernet
HomePlug standard: AV 500
Encryption: WPA/WPA2-PSK, WPA/WP2 Enterprise