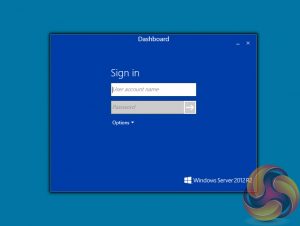 If you are used to NAS operating systems that are graphically icon rich and easy to navigate then the Windows Server Essentials dashboard may come as a bit of a shock.
That said, if you are accustomed to the Windows Server environment then it shouldn't pose any problems as the Dashboard looks a bit like a condensed, simplified version of Server Manager.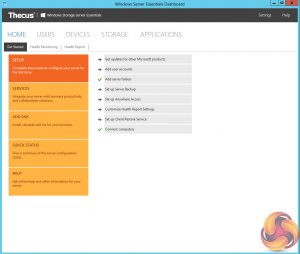 Clicking on the Getting Started tab reveals a block of five options; Setup, Services. Addins, Quick Status, and Help.  Under Settings there are eight further submenus that allow setting up Windows Update, adding users and server folders, configure data backups and the Client Restore service which can connect other computers to the W5810.  Microsoft's Anywhere Access is also offered in this section.
Under the Services section are options to connect to Microsoft's Online Services; Azure Active Directory and Azure Backup, Office 365 and Intune as well as enabling Exchange Server to manage emails.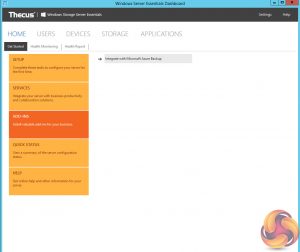 The Add-Ins section is where you can install additional business applications and utilities. Also in this section is where you can sign up to Microsoft's Azure Backup and download the Azure Backup integration module.
The Quick Status window offers a quick view on any active user accounts, the number of server folders and the number of connected PCs. It also displays the status of Anywhere Access, Server Backup and Health Report settings.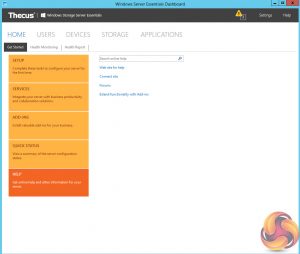 The Help section has various links to find help. It provides links out to Microsoft's Technet libraries, the Windows Server forums and to Microsoft's Partner Center.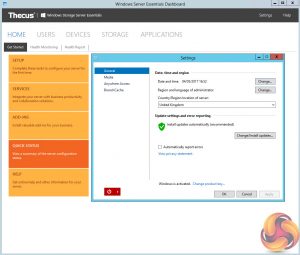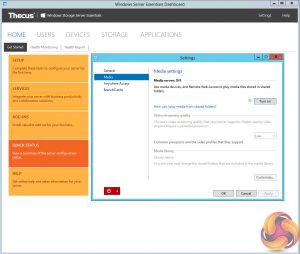 On the top ribbon bar, there is a settings button. Pressing this opens up a sub-menu of General, Media, Anywhere Access and BranchCache.
The General page allows changes to be made to time, date and language settings and change update and error message settings.
The Media section allows the Media server to be turned on and off, change video streaming quality and view contents of the media library. The last two sections allow the setting up and/or change settings of Anywhere Access and BranchCache. It also has a power icon to either shut down or restart the W5810.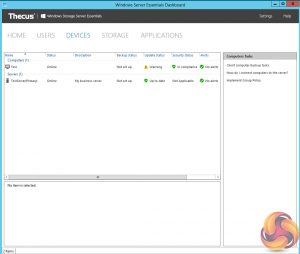 The Devices page lists all the computers and devices connected to the server. The Application page links out to Microsoft's Pinpoint page. Pinpoint is the marketplace for Server 2012 Essentials allowing business users to find useful apps and services.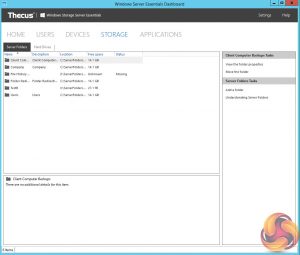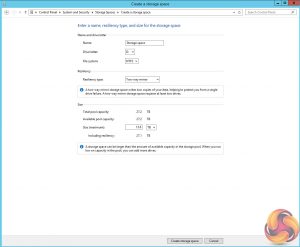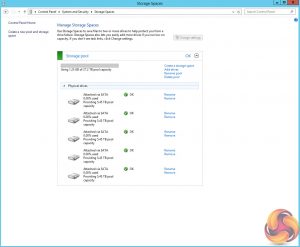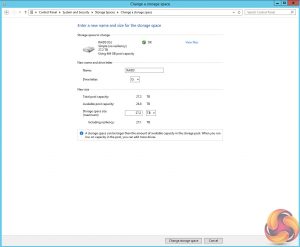 One of the problems for the inexperienced user is that not all of the configuration options sit inside the dashboard although at first glance it may appear that they do.
For instance, take setting up and managing the storage space. Clicking on the options in dashboard leads you away from it and into the standard Windows Disk Management page which to the newcomer might seem confusing.
Features
Storage Spaces.
Data Duplication.
File History Support.
Online NTFS Scan and Repair.
Windows Client integration (via Launch Pad).
NIC Teaming.
SMB Multi-Channel.
Support for up to 50 users or devices.
Supports Microsoft Azure backup and Office 365 integration.