KitGuru reviews hundreds of products every year and having high performance, up to date test systems at hand to partner with the latest components is always important. This is particularly true when we are reviewing the latest graphics cards.
In the last week several of our older 4770k systems have been disassembled and we are proud to announce that we have been working with DINOPC to configure several new test rigs for our key reviews.
We have reviewed systems from DINOPC in the past and have found their builds to be very capable, balanced and well finished. BIOS configurations are also important, and DINOPC have not disappointed us yet.


When we spoke with DINOPC, we gave them guidelines on what we needed for these test systems.
A fast Solid State drive, high capacity power supply to handle SLi and Crossfire configurations, 4790k processor, top of the line motherboard, 16GB of fast memory and a mechanical storage drive for all the games and applications we use to test with the latest graphics cards. Oh yes, and it all had to be fitted in an easy to work with chassis capable of housing long graphics cards.
The good news is, that DINOPC will be making this exact system available to the public shortly – so if you want to own this exact system we will be using over the coming year on KitGuru – you can.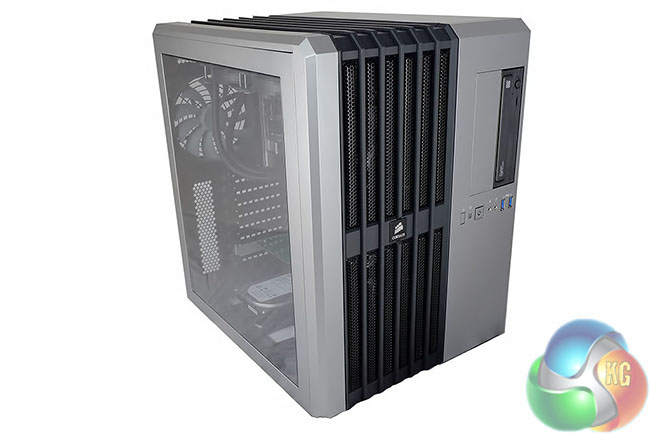 First impressions matter, and DINOPC selected the Corsair Carbide Air 540 gaming chassis as the foundation for the system build. My colleague Luke Hill reviewed this case back in June last year, and it walked away with the coveted KitGuru MUST HAVE award. It not only looks great, but there is plenty of space for big graphics cards and other components we need to test.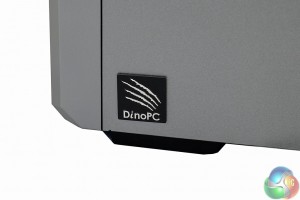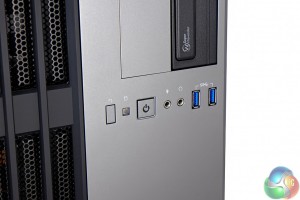 If you want to read our indepth analysis of the Corsair Carbide Air 540 chassis, head over to this page.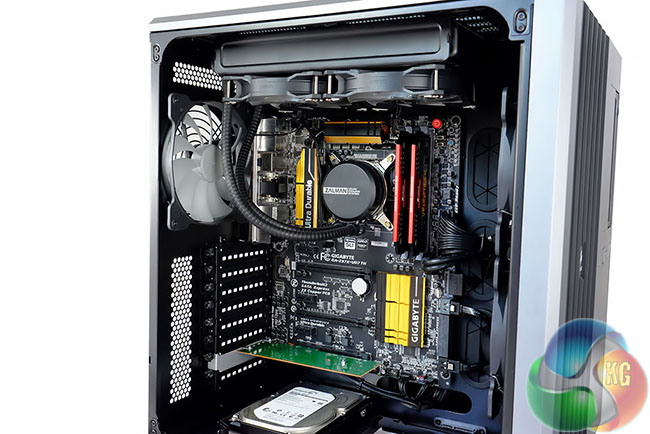 The build is very clean indeed, with all the cables routed in behind the motherboard tray. The cooler is installed with a dual radiator mounted at the top of the chassis.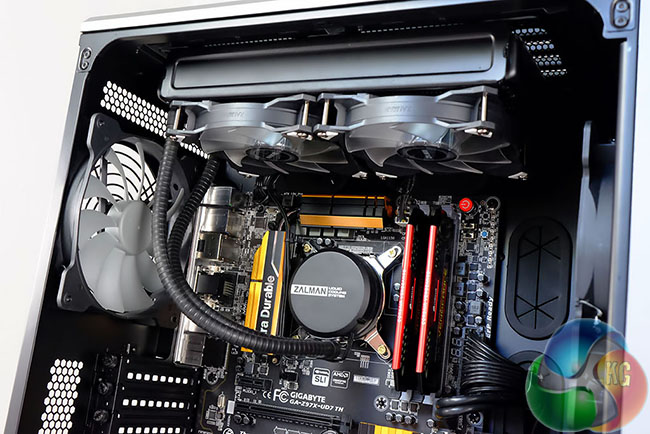 Another Corsair fan is mounted at the rear of the case to ensure there is plenty of airflow from front to back.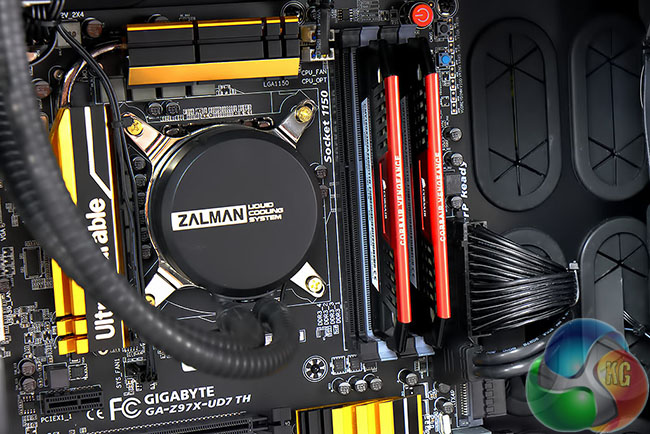 DINOPC have installed the Zalman LQ520 liquid cooler and 16GB of Corsair Vengeance 2,400mhz memory. We haven't actually reviewed this liquid cooler however it looks to be capable, with a 240mm radiator, which measures 40mm thick. The product page for the Zalman LQ520 is over here.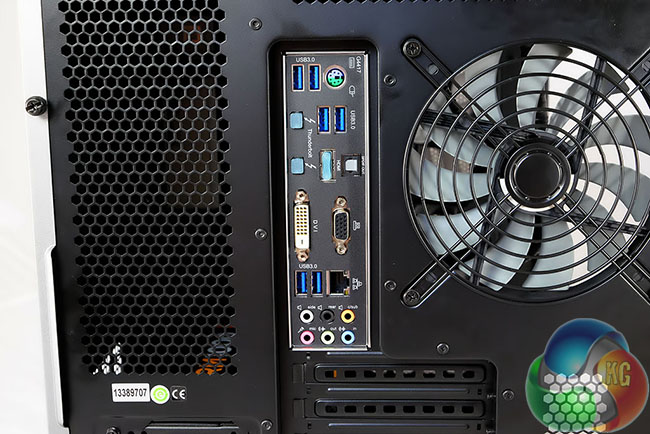 DINOPC have installed the high end Gigabyte GA-Z97X-UD7 TH motherboard at the heart of this build. We have reviewed several of the new Gigabyte Z97 motherboards, but not this particular one – although a full indepth analysis is forthcoming. The Z97X-UD7 TH board is fully loaded, with Thunderbolt 2 technology support, SATA Express capabilities and full SLi and Crossfire support.
The product page for the Gigabyte GA Z97X-UD7 TH is over here.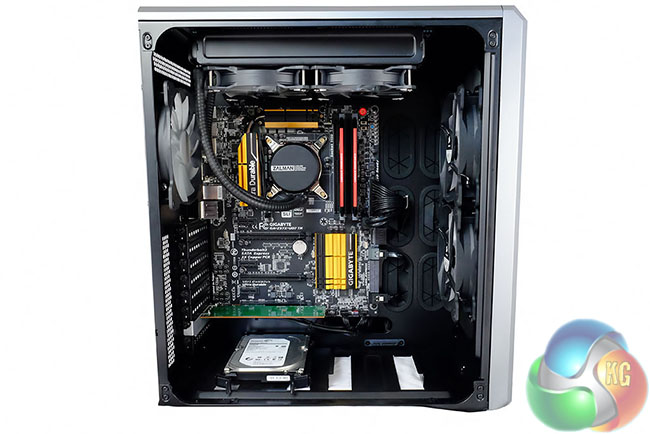 Obviously as this system will be utilised primarily to test graphics cards, DINOPC have not installed one. We would imagine when this system is available to buy, they will populate the slot with multiple choices at a variety of price points.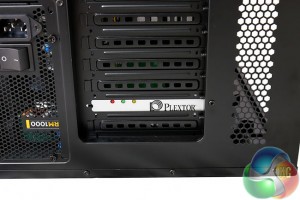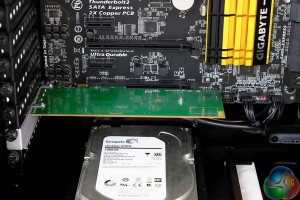 DinoPC have opted for a Plextor 128GB M.2 SSD for boot and operating system duties, alongside a Seagate 1TB 7,200 rpm mechanical hard drive. Fast, cost effective and with plenty of storage for our STEAM games and benchmarks.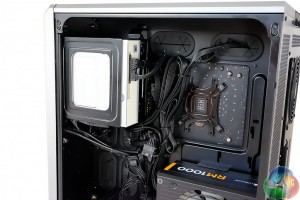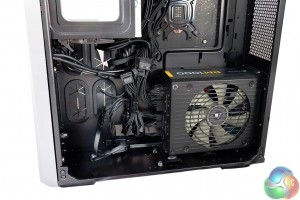 The other side of the build houses the power supply and all the cables – alongside the DVD/CD rewriter. DINOPC are powering the system with a Corsair RM1000 modular power supply which should have plenty of juice to power any Crossfire or SLi configuration we need over the next year.
It has been great working with DINOPC for this system build. We don't yet have a link for you to buy the exact same system on their website, but we will add it into this article when we get more information over the next week.
You can discuss this system on our Facebook page, over HERE.
If you want to see high resolution images of the system taken in our new studio – click over to the next page – enjoy!