EGX previously named Eurogamer expo is the UK's biggest video games event. This year it was hosted at the NEC in Birmingham from Thursday 21st until Sunday 24th of September. It's expected that over 75,000 Gamers attended the event to check out some of the latest games from some of the worlds biggest publishers alongside a huge variety of Indie games from up and coming creators.
The first EGX event started in 2008 with just 4,000 gamers turning up but attendance has grown year on year. The venue has changed several times over the events history before settling on the NEC in 2015. EGX was hosted once in Leeds and several locations throughout London. London is now where the spin off event EGX Rezzed, which started in 2012, is held.
Getting to the NEC was easy enough by train with the Birmingham international station right next door. The NEC is a huge venue so it's a bit of a walk to get to the halls where EGX was held but it was signposted clearly and you know you have found it when you see the groups of people wearing Game related merchandise and even some in full Cosplay attire.
It's quite overwhelming walking into the Halls. The Rezzed zone featured row on row of indie games and walking further into the event I saw stands from Ubisoft, Playstation, Xbox, Square Enix, Nintendo and Blizzard all showing off their latest releases. There were a lot of people walking about and nearly every stand that had games available to play had a large queue. A lot of the stands also had rows of top end gaming computers to play on so there was plenty of gaming opportunities, which isn't surprising at a gaming event!
I found that the layout was a bit miss matched at times. I was interested in finding the PC hardware stands and expected them to all be in the same area but instead found a few of them dotted randomly throughout the halls. The event wasn't overly huge so after walking around for a bit I soon learnt my way around.
Walking around I saw Ubisoft showing off Assassins creed origins, Far Cry 5, Mario + Rabbids Kingdom Battle and South Park: The Fractured but Whole. Virgin Media hosted a huge destiny 2 area with other 50 PlayStation pros for gamers to use.
There was plenty for Nintendo fans with four different Tournaments and a Nindies area where fans could play upcoming titles Worms W.M.D, Unbox, Huntdown, Flat Heroes, Dandara, Rogue Trooper, Dimension Drive and Super Meat Boy Forever. Blizzard attended the event with a giant merchandise stand and opportunities for gamers to play Overwatch and Heroes of the storm.
Gamer Network in association with OMEN by HP and Windows held a huge UK Overwatch tournament called Road to EGX and the Omen stand seemed popular with people wanting to try out their range of gaming PCs.
Xbox had a big presence at the event with an area that allowed gamers to try out the Xbox X before release on the 9th November. The Xbox stand also allowed gamers to get hands on with Forza Motorsport 7, Sea of Thieves, Middle-earth: Shadow of War, PlayerUnknown's Battlegrounds, Assassin's Creed Origins and Age of Empires amongst many others. There was also plenty of photo opportunities with a Porsche 911 GT2 RS on display alongside a giant rideable dragon from Shadow of war.
The Playstation stand was their biggest yet at EGX and had a huge range of games to play. There was a stand showing the different colour variants of the PlayStation pro and a huge 4K TV where you could see the PlayStation pro in action.
Gran Turismo sport was playable on  Playstation VR and seemed to extremely popular. Call of Duty: WWII, Star Wars Battlefront II and Detroit: Become Human, were also playable at EGX on the PlayStation stand.
The ESL arena had a couple of huge stages that hosted League Of Legends, Counter-Strike: Global Offensive, Rainbow 6: siege, Splatoon 2, Rotor Rush and Pokken tournaments. This is also where most of the PC hardware was located with Intel, MSI, Hyper X, Asus, Gigabyte, Zotac, Corsair & Alienware all showing off their latest hardware.
We visited the Alienware stand who had an awesome competition to win an Area 51 PC which you can find out more about here. We also spoke to some of the helpful guys from Corsair who were debuting a brand new RGB headset stand to add to the corsair line of peripherals. This is expected to be fully announced within the next few days so more information when we have it.
There seemed to be very little presence from AMD at this event. There was a large Intel experience zone & even most of the beautiful PCs on the PC specialist & Scan stands featured Intel hardware.
Overall I enjoyed EGX. There was plenty to do and lots of Huge titles to play if you were willing to queue for them. A lot of the big developers were present and they definitely took EGX seriously bringing along their next biggest releases and plenty of PCs or Consoles to play them on.
The various stages throughout the event always had something going on and there was even a dedicated cosplay stage which was nice to see! I found there was plenty of products on sale too from T shirts and Hats to complete gaming PCs. Quite a few of the stands had various competitions running over the weekend to win great prizes as well.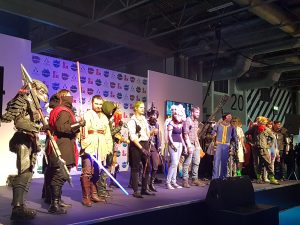 The NEC is a really good venue with plenty of space and good access and facilities however I think the layout could be improved. It would be easier to navigate the event if there had been more specific sections. EGX definitely had some sort of layout with some areas easier to locate and explore than others.
I would have liked to see all the PC Hardware stands in the same place and all the Merchandise stands in the same area and I feel like this would make things easier to find.  Some aisles seemed quite narrow too with the large numbers of people moving through them but there were other areas with huge amounts of open space.
As a PC gamer I'd also like to see more PC stands as there's a lot of hardware companies out there that didn't attend to allow gamers to test out and purchase their hardware. I hope that this event continues to grow and we see companies invest in bigger stands with even more opportunity's for people to try out new releases and discover exciting Indie games.
KItGuru says: If you like the sound of EGX, the next event EGX Rezzed which has more of a focus on Indie games is going to be held on the 13th to the 15th of April 2018 at the Tobacco Dock in London. EGX is also confirmed for next year at the NEC once again on the 20th of September 2018. I hope that I can once again attend in 2018 and try out next years new and upcoming Game releases.