Feeling a bit warm this nice summer's afternoon? Your PC probably is too, which is why it's always important to keep it cool. Don't fret though if your fans are clicking and your wallet is empty, as be quiet! is giving away a bunch of coolers, fans and PSUs once again in a brand new, worldwide competition.
In this one, there's three prize packs up for grabs. They are as follows:
Dark Power Pro 10 850w, Dark Rock Pro 3, 2x Silentwings 2 120mm, be quiet! T-Shirt
Power Zone 750w, Shadow Rock 2, 2x Pure Wings 2, be quiet! T-Shirt

Pure Power L8 630w, Shadow Rock Slim, Pure Wings 2, be quiet! T-Shirt
To be in with a chance of winning one of these packs, all you have to do is answer one, simple question:
Why is the high quality of hardware important to you?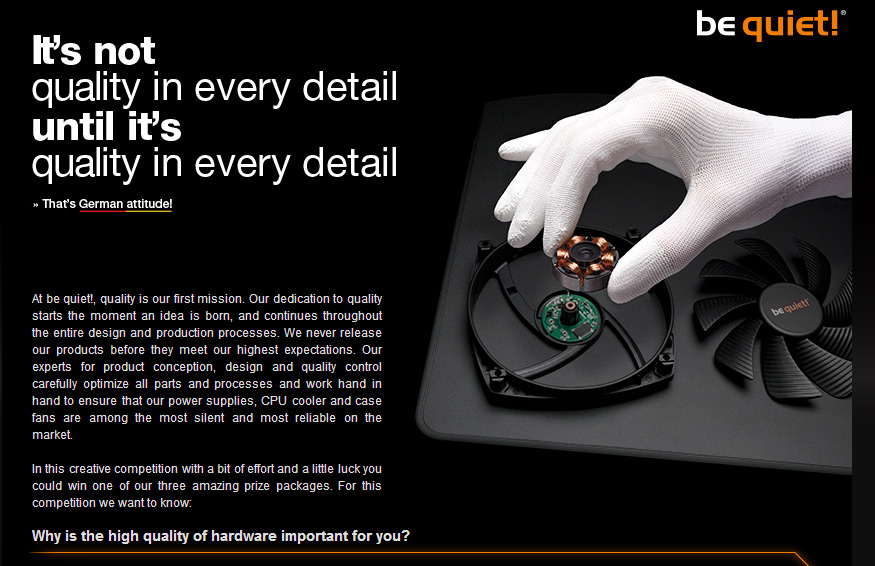 This is a question be quiet! wants you to get creative with. You can answer with a simple statement, a poem, a picture, a video; whatever you can come up with. Send be quiet! your entry over Facebook, Twitter, Google+ or Instagram, along with the tag: "#bequietquality," and then add your details to the competition entry page here.
From there, you'll just have to hope that you're a lot more creative than the other entrants.
The competition will run from 1st July through to the 15th, with winners set to be announced on 18th July. It's also available worldwide, so anyone can enter.
KitGuru Says: Good luck everyone.