Update: This competition is now CLOSED. Thanks to everyone who entered! Our three winners are:
1st place: Gerald Hefty.
2nd place: Steve Hamilton.
3rd place: James Ladbrook.
You can find the full competition winners announcement post, HERE.
We like to give back to our readers fairly often, so this month, we have teamed up with ARCTIC to offer KitGuru readers the chance to win one of three prizes! This includes one of their fantastic monitor arms, and an all-new passive CPU cooler.
ARCTIC is well known for its monitor arms. We have two up for grabs this month, the 'Z2-3D' and the 'Z1-3D'. The former is a dual-monitor mount that clamps to your desk, offering height, pivot and swivel adjustments whilst also giving you more desk space by removing the bulky stands monitors usually come equipped with. The Z1-3D offers all of the same benefits, but is designed for single-monitor setups instead.
Finally, we are also giving away an Alpine AM4 passive CPU cooler and an Alpine 12 passive CPU cooler. The Alpine AM4 is built for AMD processors, as the name suggests. Meanwhile, the Alpine 12 is built for Intel's 115X socket. You won't be cooling an 8700K on one of these, but it would be perfect for a low-power CPU, perhaps in a small living-room HTPC. The official word is that these coolers are optimal with CPUs up to 47-watts.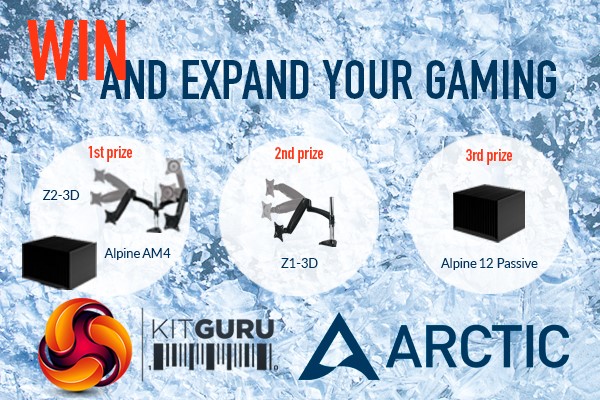 There are three prize placements, meaning three winners:
1st place: Z2-3D Monitor arm and Alpine AM4 CPU cooler.
2nd place: Z1-3D monitor arm.
3rd place: Alpine 12 Passive CPU cooler.
HOW TO ENTER:
As a spam bot check (and to make sure real people have a higher chance of winning), we need you to let us know how much the Alpine 12 CPU cooler weighs, you can find the answer (HERE). Include this in your email to us.
Click

HERE

for email autofill – please note if this doesn't work – then manually send an email to [email protected] (with subject line 'I want to win an Arctic prize!') letting us know why you think you should win.
The competition is open worldwide. Please note we are not responsible for any customs or import duties if you are outside the European Union. The prizes will be sent directly from ARCTIC. Please check with your local authorities if you are unsure of any fees you may have to pay BEFORE entering. Submitting an entry via email confirms you are happy with these terms.
Please note: KitGuru values your privacy. We DO NOT share your email address or any details with any third party or outside source. Do not send any personal details in your emails to enter this competition. If you win, we will contact you again to let you know and to get your shipping information. After the winner is chosen at the end of the competition, all emails are deleted from our server.
This competition is open from the 6th of September until the 13th of September at 11:59PM BST. Winners will be announced here and on the front page within 14 days of the competition closing.
KitGuru Says: Good luck to everyone who enters! We'll be back to announce the winners in a couple of weeks!