This week, we are teaming up with Fierce PC to give KitGuru readers the chance to win a brand new gaming PC. We didn't want to just give you a standard gaming rig though, we want to give you the chance to make this build your own, so not only will you get to win an Ironwing Rush Gaming PC but you get to design your own unique front panel.
The specific build being given away is the Ironwing Rush from Fierce PC's eSports range. In all, this system is worth £470! Here are the full specs:
AMD Athlon X4 845 3.5GHz (3.8GHz Turbo) Quad Core Processor.
Gigabyte F2A78M-HD2 Motherboard.
AMD Radeon RX 460 2GB Graphics Card.
1TB SATA3 6Gbps Hard Drive.
8GB of 1600MHz DDR3 Memory.
Remote Control RGB Lighting.
Microsoft Windows 10 Home 64 Bit.
FREE – BullGuard Internet Security.
3 Year Protect Warranty.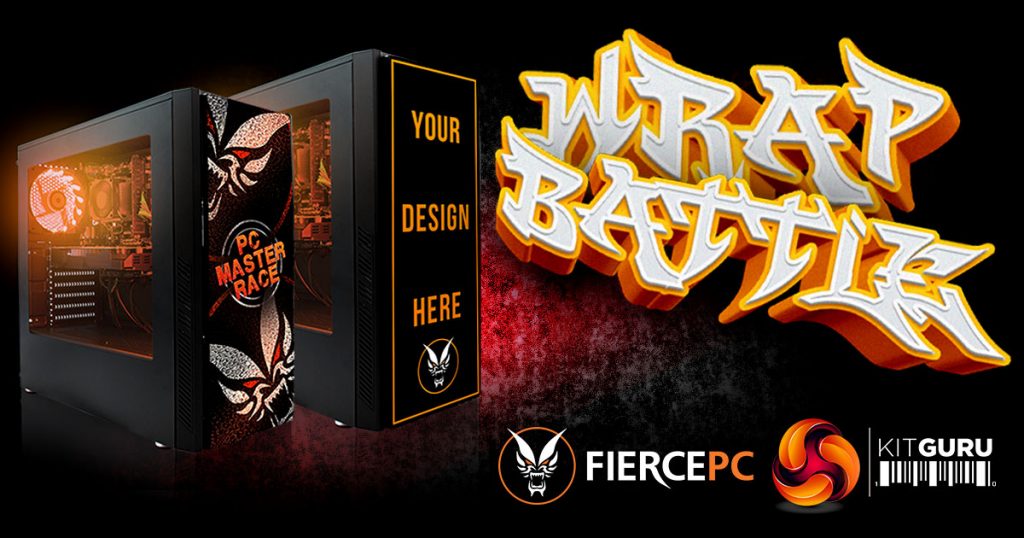 This competition is being run through Gleam.io, so entry is pretty straight forward. However, before you submit your own front panel design, there are some image requirements to keep in mind:
Image should be 415mm(h) x 161mm(w)
Images should be in PNG, JPG, PSD, EPS or AI format
Where possible, images should be 300DPI or above
Images must not infringe copyright or contain pornographic or offensive content.
Entries won't be judged on talent alone, if you have an original or funny idea, then that can work too. This competition is open to European residents only due to shipping limitations. The competition ends on two weeks time on the 11th of May.