With the SNES Mini officially launching in September, many are hoping that they won't experience the same pain caused by the shortage of the NES Mini. With Amazon UK now limiting all orders to just one console per customer, it looks like history might just be repeating itself.
Amazon contacted its UK customers this morning to break the bad news that it had retroactively limited its SNES Mini orders to just one console per customer. This only affects those who ordered multiple consoles, with singular purchases remaining the same.
The in-demand console is currently sold out across the board from retailers both online and in stores with some even unable to take pre-orders. The original listing on Amazon UK was priced at £79.99 but quickly sold out, as did the relisting that matched Nintendo UK's pricing of £69.99.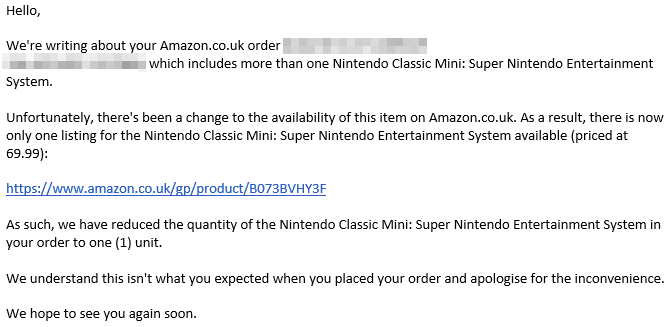 Amazon's email posted to NeoGAF.
The reason for this change is currently unclear, but it isn't the first time we have seen a company attempt to control the demand as GAME raised the price of its pre-orders before it sold out. It's possible Amazon might be reacting to word from Nintendo of stock shortages or a simple request to limit the orders. What is clear is that it should impact on scalpers who have already listed pre-orders on third party sellers such as eBay, with significant mark-ups in price.
Nintendo does plan to stock more of the mini console this time around, reports USgamer. "We aren't providing specific numbers, but we will produce significantly more units of Super NES Classic Edition than we did of NES Classic Edition. Super Nintendo Entertainment System: Super NES Classic Edition is currently planned to ship from 29th September until the end of calendar year 2017. At this time, we have nothing to announce regarding any possible shipments beyond this year."
KitGuru Says: It's starting to look bleak for those of you wanting to get your hands on a SNES Mini at launch, but retailers do expect to see more stock just after release. Did you manage to get your hands on a pre-order? Have you been affected by Amazon UK's limitation?