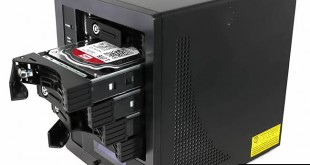 The Thecus N5810 PRO is a NAS with five lockable drives bays, an LCD display and a USB 3.0 port that looks impressive from the front.
Turn to the rear of the NAS and it starts to look awesome as there are two more USB 3.0 ports, five Gigabit Ethernet and if you look closely you will spot the battery UPS.
Watch via our VIMEO Channel (Below) or over on YouTube at 1080p60 HERE.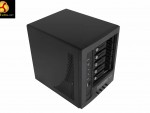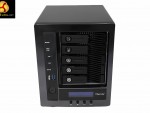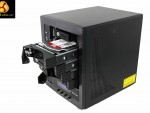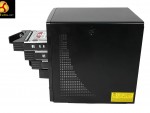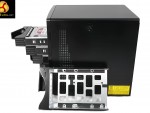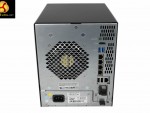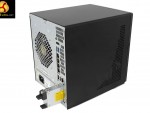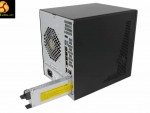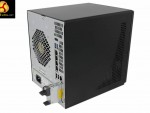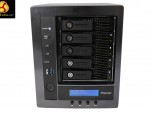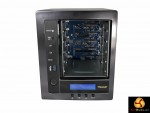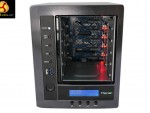 Processor Intel Celeron J1900 Quad-Core SoC.
System Memory 4 GB DDR3 (Memory expandable up to 8GB Memory).
LAN Interface RJ-45×5 : 10/100/1000 BASE-TX Auto MDI/MDI-X. WOL supported (eth0).
USB Interface USB 3.0 host port (Front x1,Back x2), USB 2.0 host port (Back x2).
LCM Module LCM display 4 buttons (ENTER, ESC, UP, DOWN).
HDMI Output HDMI port (back x1).
Disk Interface 5 x SATA for internal.
Power Supply 130W Internal Power Supply.
Thermal/Fan control Thermal sensor on processor temperature, System FAN speed controlled by temperature.
System Clock Battery-backed up system clock.
Power Management Auto power on after shut down due to power loss.
Buzzer Adjustable frequency alarm.
Buttons Power button, LCM button.
Chassis Tower Metal Chassis.
Lithium-ion Battery Built-in battery backup module (Mini-UPS).
Dimensions (HxWxD) 230mm x 190mm x 240mm.
Weight 5.46 Kg.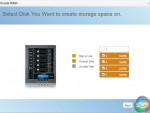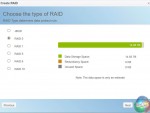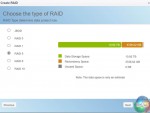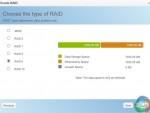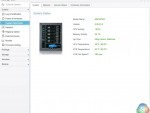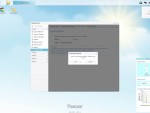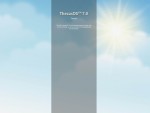 Our initial experience with Thecus N5810 PRO was a roller coaster of emotions. Removing it from the box and installing four 4TB WD Red NAS drives was very satisfying and gave the impression of a quality piece of hardware. Removing the blanking plate on the rear of the chassis and inserting the 2000mAh battery UPS was a novel experience and then we had the pleasure of watching the NAS come to life. There is a series of (noisy) beeps as the NAS wakes and reports its status on the LCD panel, which gets you nicely in the mood for some serious NAS work.
And then it temporarily fell apart.
The IP address of the NAS was clearly reported on the LCD yet we were unable to get a browser to connect and open the log-in panel. It simply wouldn't work.
As a next step we used the Thecus set-up utility which finds the NAS on your network and gives you the option of changing the log-in name and password, in exactly the manner you would expect. The software worked perfectly yet we were still unable to connect to the NAS.
Thecus documentation gave us no obvious clue to the problem and as a result we went round and round in circles. We used the USB 2.0 ports and HDMI output to connect directly to the NAS which demonstrated the hardware was working perfectly and could connect to the Internet. In many respects this made the inability to open the control panel all the more frustrating until the fourth or fifth time we ran the Thecus utility when it occurred us that we might change the IP address from the default 'Fixed IP' to 'Dynamic.' Bingo, job done, never looked back.
If you read that paragraph and thought 'newb' then congratulations the Thecus N5810 PRO is very likely right up your street. Conversely if you have no idea what we were talking about you might choose to look at a QNAP or Synology NAS that gives you more tender loving care.
It seems that Thecus is inclined to believe that anyone buying a PRO NAS is indeed a Pro and is familiar with the ways of their Thecus 7.0 software. On that note, the software is based on Linux, just like QNAP and Synology (and others) but as you will see in our video the user experience and desktop is relatively plain and lacks the bells and whistles you get with the more consumer-oriented NAS. You might perceive this to be a problem but then again it could be a blessed relief.
There are three icons at the top left of the main GUI for Control Panel, App Centre and File Centre, as you can see in our video. Of these three we found the File Manager left us a bit high and dry as there are no buttons with obvious labels that make it clear what you should click. All the features that you require are present and correct however you may have to dig around to find what you want.
Performance
The combination of quad core Celeron J1900 and 4GB of DDR3 memory yields a decent level of performance. It is interesting to note the Thecus behaved rather differently to the QNAP TS-453mini despite the similar hardware however it was consistently fast and gave us no problems.
We have to wonder how the N5810 PRO will respond if you use those multiple Ethernet connections to hook the NAS to a selection of networks where it potentially has to deal with dozens of users. At the small business level a J1900 processor is plenty of hardware but in a larger office you might prefer a Core i3 or even a Xeon.
Noise and power
Thecus N5810 PRO has an internal 130W power supply and draws 45-50W from the wall socket. The control panel tells us the internal temperature was typically held around 40 degrees C and the cooling fan could be clearly heard spinning up every so often to keep the temperature at the desired level.
The sound of the fan was mildly intrusive but most NAS units are parked in a corner of an office or in a different room so these low noise levels do not really matter.
Closing thoughts
The hardware in Thecus N5810 PRO is excellent for small office use and could stretch to a medium sized business at a push. The array of five drive bays, five Gigabit Ethernet connections and three USB 3.0 ports is much more generous than you find on most NAS.
Installing the drives, turning on the NAS and creating the RAID array(s) is a simple task, once you have the control panel open.
The battery UPS is a superb feature for businesses and could really save your bacon if the power dips or you suffer some other problem. Knowing your NAS will continue spinning for 20 minutes gives you time to either shut it down or to cross your fingers and wait for the power to return.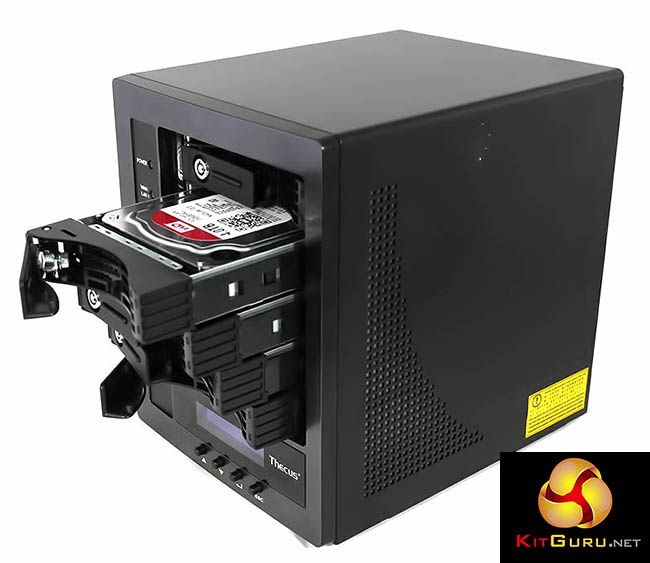 We were unconvinced by the Linux installation that runs when you connect monitor, mouse and keyboard directly to the NAS and feel the traditional network connection gives a far better experience.
The Thecus 7.0 software works well but isn't as welcoming as the Linux variants you find on some other NAS. That isn't a major problem but you never get the feeling that Thecus tech support and documentation is standing by, ready to assist. It really helps if you are self-reliant and able to figure out a problem for yourself.
Provided you have a certain level of technical knowledge (or employ a member of staff who does) Thecus N5810 PRO is an excellent NAS that should provide sterling service, provided you get along with the software.
Discuss on our Facebook page, over HERE.
Pros:
Five 3.5-inch/2.5-inch drive bays.
Battery UPS.
Five Gigabit Ethernet connections.
LCD display.
Quad core Celeron J1900 processor.
Three USB 3.0 ports.
Cons:
Thecus 7.0 software could be more friendly.
Fan noise can be annoying if you are near the NAS.
You pay a premium for all those Ethernet ports and the UPS.
KitGuru says: we were deeply impressed by Thecus N5810 PRO but found it hard to love.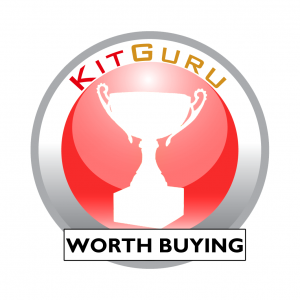 Be sure to check out our sponsors store EKWB here