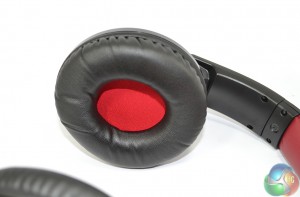 With a diameter of around 100mm and a central gap measuring just over 40 x 50mm, I had no problems obtaining a fit which was comfortable for my ears. The majority of my ear was able to fit inside the gap, while the soft foam ensured that my overhanging lobe was not compressed against myself or the headset.

I am pleased to report that I did not suffer any ear overheating problems, even when using the Raptor HS30 for extended gaming sessions. While the ear cups' soft foam material and leather coating does well to dispose of the heat transferred to them, the headset's weight distribution system can also be thanked for comfortable ear temperatures.
A minimalistic amount of force was transferred to my ears thanks to the Raptor HS30's effective weight distributing design. This proved beneficial for not only ear temperature, but for eliminating head pains after extended gaming sessions (as I have suffered with other heavy headsets).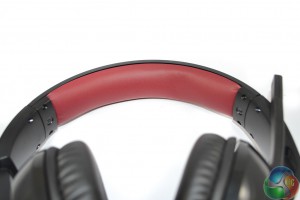 My positive experience with the HS30's effective weight distribution system is largely thanks to the headband's leather-covered foam padding. This piece of material presses against the top of one's head but, thanks to its large surface area and soft material properties, distributes the circa-300g headset weight over a larger area.
This then has the benefit of reducing the pressure that I experienced on the top of my head, while also ensuring that the ear cups were only transmitting a very small amount of force to my ears.
An additional 34mm of flexibility is provided to aid users in the search for comfort when wearing the Raptor HS30.
For my game testing I played many sessions of Battlefield 4 (for *ahem* testing purposes, of course).
The first point that struck me was just how good the Raptor HS30 headset's positional and directional audio performance was. Making use of a stereo sound system, I didn't expect much in the way of directional audio from the HS30. But I was pleasantly surprised when I was able to hear the sound of footsteps and tanks situated behind my character. The directional performance wasn't as good as a surround sound headset, but it was better than many of the other stereo units that I have used.
Strength of the bass levels was another positive performance aspect of the Raptor HS30. Explosions had a sizable thud to them and the deep sound of thunder on Battlefield 4's Paracel Storm map was particularly powerful.
Battlefield 4's tones were also portrayed to a high standard by Corsair's Raptor HS30. It was easy to distinguish between the pitch of a character shouting orders and the ping of a near-miss sniper round. And the differing frequencies of outdoor and indoor combat were effectively depicted by the Raptor HS30.
Chat performance from the microphone was not good. It wasn't terrible, but speech reception was not particularly good either.  During my test calls over Google Hangouts and Skype, the recipients commented that they could not hear my voice particularly clearly unless the microphone was bent towards my mouth. And given that the microphone would not stay in its bent position, this presented an issue.
Speech clarity was bearable for in-game chatter, but it was not ideal for conversation purposes.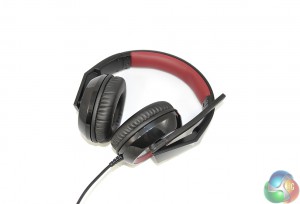 Noise isolation performance was about average for a headset of this design and price range. With the headset being worn, but no audio being played, I could easily hear the key actuation's of a Cherry Red mechanical keyboard. In all fairness, damping the sound of mechanical keys being pressed at an arm's length away is a particularity tough task for any passive noise cancelling headset.
The sound of four 120mm fans installed in a system sat next to my feet was drowned out by the Raptor HS30.
I loaded up The Dark Knight Rises for movie playback tests. The Raptor HS30's ability to handle movie workloads is limited. The film's rapid change in audio frequencies and underlying speech can present a challenge for headsets, but Corsair's Raptor HS30 performed well in that regard. There were points where the bass was overpowering and speech clarity was affected, however. This made listening to the speech in films a scenario which the HS30 didn't suit.
Overall music performance for the Raptor HS30 was acceptable. The range of frequencies and simultaneous bass of backing tracks was delivered well, but the treble did not come across particularly effectively with the R&B and Pop tracks that I tested. I actually found the bass to be a little too overwhelming for the higher-pitched voices to be clearly registered in certain tracks.
With the volume set to maximum there was some distortion between the low frequency sounds and higher-frequency outputs, such as voices.