I dedicated a lot of my spare time over the last two weeks listening to the HD800 S and HD800 headphones before I started to write this editorial. Sennheiser have been kind enough to send me their high end £1,500 HDVD 800 amplifier for audio analysis.
I had already used this amplifier extensively for a couple of months in 2015 but it never truly won me over, even though Sennheiser claim it a perfect match for their HD800 series.
Not to say it is a bad amplifier, far from it, but I always felt it suffered from a little dynamical restriction. Plenty of people disagree with me, but I can only base my opinions on what I hear. I won't be using the HDVD 800 for any tests today.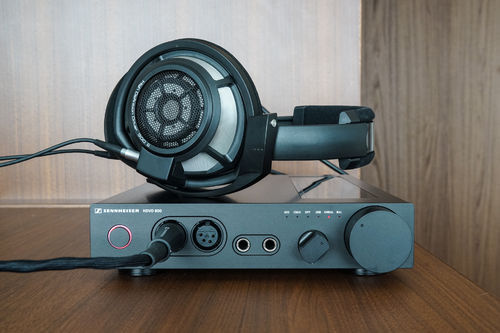 (image above courtesy of Jude at head-fi.org).
My contacts close to Sennheiser have informed me that the company are releasing a new updated, 'black' version of this amplifier later in the year, around September. One to watch out for.
I tested both HD800 and HD800 S with their stock 1/4″ inch single ended cables and with a Cardas 2x 3 pin XLR cable, modestly priced at £250. While Sennheiser may have changed their single ended cable over the years, at least I knew the Cardas balanced cable would maintain a level playing field between both.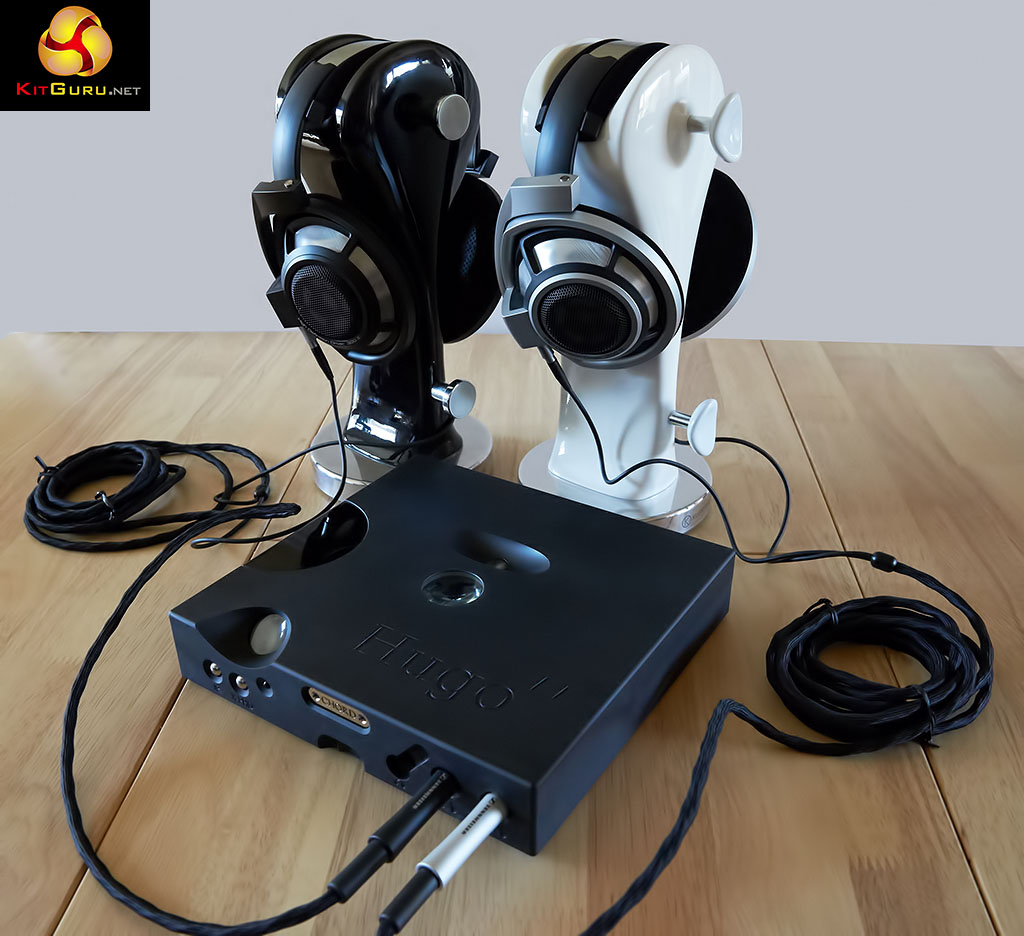 One of my favourite amplifiers is the £2,995 Chord Hugo TT, a product that doesn't often leave my side. This is the 'Table Top' version of their ever popular Hugo. I wanted to test single ended performance first with the cables Sennheiser include in the box. I used the limited edition Astell & Kern AK380 Copper Edition as the source player with a variety of 24 bit FLAC files from the likes of The Eagles, Otis Redding, Stone Sour, Kate Bush, Diana Krall, Ella Fitzgerald, Nate King Col, Iron Maiden and Frank Sinatra (to name a few).
The Hugo TT is substantially larger than the older unit which focused on portability. Many people were actually using the Hugo as a main part of their home hifi system, which is how the Hugo TT came to fruition. One of the major problems with the original Hugo was that the ports were very closely packed and some exotic cables just wouldn't fit into the ports.
Chord don't use standardised circuit design. They use their own FPGA (Field Programmable Gate Array) rather than widely available DAC ICs from companies such as Wolfson or Burr Brown.
Technically the TT has the same audio circuitry as the smaller Hugo. The power supply is the main difference between the units. The TT has double the capacity and incorporates super capacitors to improve battery life and performance.
While the Hugo TT can be used as a portable device, it is not really meant to be used as such. The battery pack and supercapacitor implementation is in place to isolate the audio circuitry from mains noise.
The TT has two USB-B inputs, with one offering support for 32 bit 384 kHz PCM data streams and DSD in single and double speed. The other is SD, limited to 16 bit/48Khz signals. Optical and coax inputs are also supported. Coax has a maximum support of 24 bit 384kHz and optical 24 bit 192Khz. There is also full support for aptX Bluetooth.
There are three headphone outputs, two 6.3mm and a single 3.5mm. The TT can be easily connected to a hifi system with both single ended and balanced XLR output connectors at the rear. This means it can also perform preamp duties. Black and silver options are available.
The HD800 and HD 800 S both perform very well with the Chord Hugo TT although the standard 1/4″ cable that Sennheiser supply with the headphones could be better. I can remember the first time I used a high grade CARDAS cable with the HD800 many years ago – bass response was noticeably better and I was amazed that a cable could make such a difference. This is not always the case.
It is immediately obvious how Sennheiser have tweaked the audio characteristics of the HD 800 S. The treble frequencies in the curve are reduced, smoothed off with a softer edge to make music more enjoyable, especially if you plan on listening for a few hours at a time. When my ears adjusted, it was apparent that the new headphone was still resolving the same amount of fine detail, but it was being presented to the listener (me) in a slightly less aggressive manner.
By using the new dampening materials there is a slight reduction in high frequency micro detail when switching from HD800 to HD800 S headphones. While many people I know in headfi circles love this characteristic it is the one area that the HD800 came under criticism over the years. I have to say I was one of the dissenting audience who had a difficult time living with the HD800 for a long period of time. Even with high grade tube/valve amplifiers the issue was apparent.
The original HD800 had a tendency to bombard the senses with a little 'too much' information at times. I would say that the HD 800 S sounded more natural and organic especially when listening to female vocal and finely miked acoustic guitar.
I put myself to the test and placed a blindfold over my eyes (I don't keep blindfolds in my house, so I used a scarf instead). My friend then placed either the HD800 or HD800 S on my head (I didn't know which) and she played a Diana Krall track 'Temptation' from the album 'Girl In The Other Room' via the headphones.
I was always able to correctly identify the headphone on my head just by listening to the music. It was pretty easy to tell by the bass response at the start of the track and also by Diana's vocal tone when she started to sing shortly after the track started. The HD800S has a slightly warmer edge to the proceedings, while maintaining the high levels of detail. I use the term 'warmer' to signify a more realistic, life like reproduction rather than a simple colouring to the signature.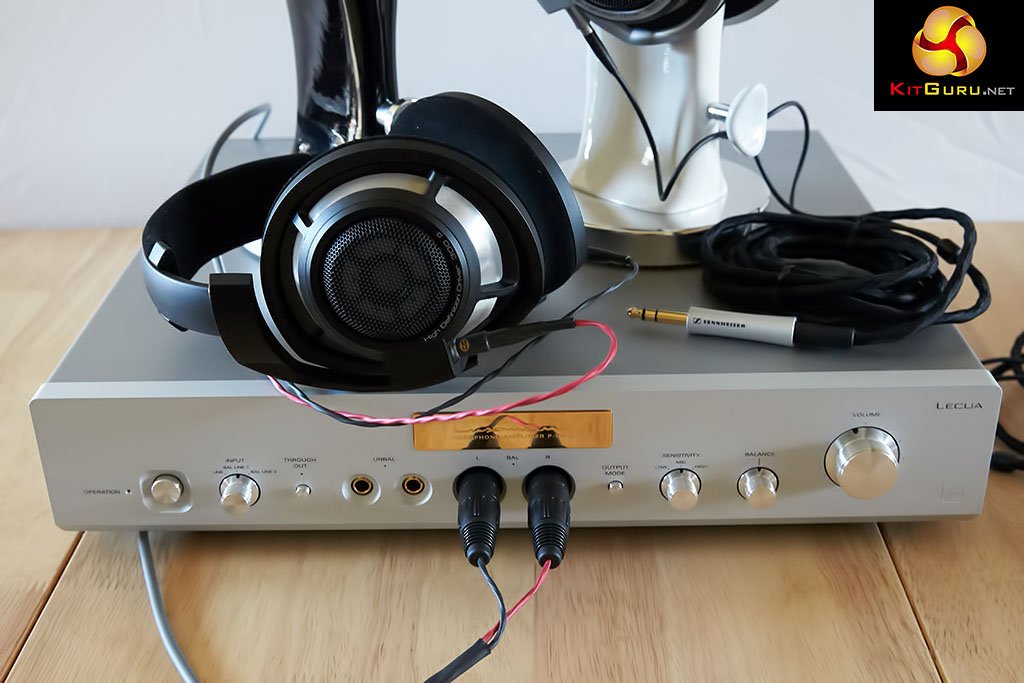 The Luxman P700 U Reference headphone amplifier is one of my favourites, priced at £3,000. It is such a refined amplifier that it can completely bathe the listener in a warm glow of euphoria. It is very neutral in presentation and it has a tendency to tame harsh sounding headphones with its sophisticated, lush, addictive presentation. It is actually one of the only amplifiers I have used that can help smooth out the slightly accentuated treble of the older HD800 headphone. I used the CARDAS balanced XLR (2x3pin) cable with both headphones to come to my conclusions.
The Luxman P 700 U is a glorious looking amplifier from an engineering viewpoint. It weighs nearly 13kg and can deliver a lot of power to drive planar headphones with relative ease. Output power is rated; Unbalanced: 4W+4W/8Ω, 2W+2W/16Ω, 1W+1W/32Ω, 53mW+53mW/600Ω, Balanced: 8W+8W/16Ω, 4W+4W/32Ω, 213mW+213mW/600Ω.
The front panel of the Luxman P700u amplifier is fully loaded. A selector switch resides next to the power switch – highlighting a line in, next to two sets of balanced inputs.
Next are two 1/4 inch connectors, alongside a set of 2x 3 pin XLR headers. The output mode can be switched between both, and there is a sensitivity knob to change between low, mid and high levels. A balance knob rests beside the Volume knob.
Of special note is the volume attenuator on the P700u. Luxman give this the 'LECUA 1000-WM (Luxman Electric Controlled Ultimate Attenuator with Weight Matrix Technology) branding. Quite a mouthful, but state of the art according to Luxman. They claim it contains only a few resistors in the circuit per channel at any single volume setting.
I found the medium gain setting was best with both HD800 and HD 800 S. The high setting raised volume levels , but it also introduced a little harshness with some tracks which did not appeal to me. At medium gain, I could not often push past 12 on the dial without causing discomfort. There is plenty of drive on tap for these headphones.
The HD800's sounded better from the Luxman P700U than they did from the Hugo TT, but it was more in the scale of the presentation rather than a dramatic increase in sound quality. A very small metallic tizz was removed from the sound signature and I found myself enjoying the music, especially the legendary vocals of Frank Sinatra and Ella Fitzgerald.
The HD800 S sounded better in all areas than the HD 800 – bass and sub bass response is noticeably enhanced and vocals in the mid range were presented in a more relaxing, yet just as detailed manner. Treble frequencies were not as pronounced, but I was still able to easily pick out fingers gently sliding on guitar strings, ambient breathing in some tracks, and the full soundstage that made the HD800 such an iconic headphone.
There is no doubt in my mind that Sennheiser have managed to smooth out the upper frequencies while maintaining the transparent mid range, epic sound staging and placement of the older headphone, along with a deeper, yet tightly focused bass response.