Upon launching its £799 Vive Pro back in April, HTC made the curious decision to ship the device without controllers or base stations, forcing early adopters to either recycle first-generation hardware or purchase them separately. Although it's taken three months, the company is now offering a full kit at an eye-watering price tag of £1,299.
The £799 Vive Pro headset certainly holds up as a decent upgrade on its own, offering 1440×1600 resolution per eye for a total 2880×1600 pixels, increased 78 percent from the original Vive's 2160×1200 pixels. The device has also seen an overhaul on its design to adjust weight distribution and adding a new adjustable strap for improved comfort in the process. Its built-in headphones also feature a brand new digital amplifier to help with sound quality.
HTC has collaborated with Valve for its latest base stations, providing two SteamVR 2.0 models within the Vive Pro full kit. This offers up to 6m x 6m of playing space, which can bump up to 10m x 10m if two more base stations are added into the mix. So far, however, it seems that these upgraded sensors aren't sold separately.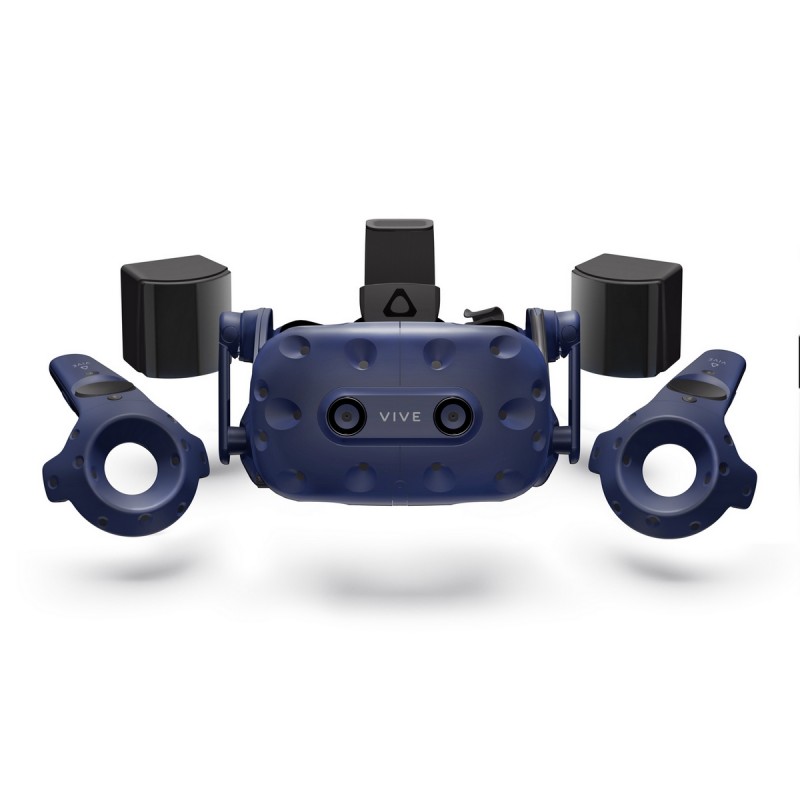 The Vive Pro controllers sport the same shade of blue as the headset, largely working the same as their predecessors. This includes a mounting kit, link box, two USB 3.0 cables and two DisplayPorts, among other miscellaneous items to help with maintenance. While these controllers are similarly not currently sold separately, they look to function the same as the original Vive peripherals which cost £119.99 each.
Despite being titled the 'Vive Pro full kit', the wireless adapter that allows users to move around freely is noticeably missing. This is currently sold separately for approximately £289.99 depending on the retailer.
According to HTC, a good portion of users don't make use of the space provided by the new SteamVR 2.0 base stations. This has paved the way for HTC to offer a cheaper bundle, featuring the new Vive Pro headset paired with two original Vive controllers and SteamVR 1.0 base stations for $1,098. Unfortunately, it seems this starter kit is only available in the US directly from HTC, while the £1,299 Vive Pro full kit is on shelves in the UK.
KitGuru Says: The starting price of £799 seems incredibly steep for such a basic version of the device, particularly when the original Vive launched for £769.99 in the UK with controllers and base stations. With competition from Oculus and various Windows Mixed Reality headsets, not to mention its own original Vive being cut in price, it's difficult to see who the Vive Pro is marketed towards at launch. Are you interested in purchasing a VR headset? What do you think of the Vive Pro's pricing?