IKEA has teamed up with Asus ROG to create gaming furniture for your home. Ikea's upcoming line of gaming furniture will consist of 30 new products and it will be initially available only in China, coming to other countries in October 2021.
With an ever-increasing number of gamers worldwide (currently 2.5B), Ikea has decided to step up their game regarding gaming furniture. In 2018, the company teamed up with UNYQ and Area Academy to make their first approach into the gaming furniture market. With the new collaboration with Asus ROG, Ikea plans to design new furniture "specifically for the gamers to bring the comfort of gaming experience to a new level".
By combining both ROG's experience with Ikea's home furnishing knowledge, both companies will develop a "new range of affordable and ergonomic gaming furniture & accessories" to improve the gamers' performance that won't clash aesthetically with the rest of your home's decoration.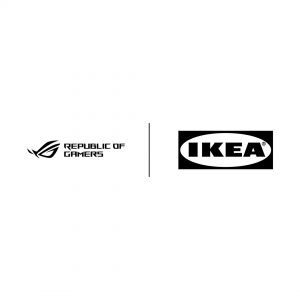 The new gaming furniture is being developed in the Ikea product development centre in China, Shanghai. Designers from both companies have been together to collect feedback from professional gamers and enthusiasts to fulfil the requirements to offer an improved gaming experience.
Ewa Rychert, global business leader of workspace, said that gaming is a good hobby for those seeking to relax and have fun, in spite of how some people describe gaming as being a negative activity. Additionally, Ewa hopes "that the new gaming range will help to embrace and enable the benefits of gaming in life at home".
Kris Huang, general manager of Asus gaming gear and accessory business unit, stated that with ROG's "strong understanding of the gaming community" and Ikea's know-how, together they will deliver products that "empower gamers to build the gaming space they have always imagined".
KitGuru says: Would you like to see what Ikea and Asus have in store for us? Do you think other brands should follow Asus example?