Logitech has announced a new keyboard case for the iPad Pro 12.9-inch (3rd and 4th generation) and iPad Pro 11-inch (1st and 2nd generation), as well as a new mouse for all iPads, including the new iPad Pro models. 
Following the announcement of the new iPad Pro, Logitech is set to launch a new all-in-one backlit keyboard case named Slim Folio Pro. To further enhance the user's working experience, Logitech will also launch an iPad edition of its "best-selling" Pebble mouse.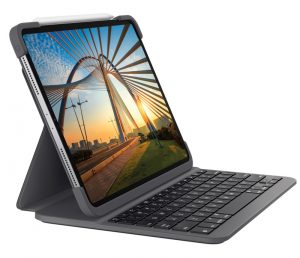 Featuring protection for the iPad Pro and Bluetooth Low Energy pairing, the Slim Folio Pro was designed to provide a "comfortable typing experience". Previous iterations of the Slim Folio Pro have been successful, so Logitech decided to create a new model to match the launch of the new iPad Pro. This lightweight case surrounds the corners of the iPad Pro, designed to prevent it from getting physical damage. The keyboard remembers the last device it has connected and will automatically turn on when you "open the iPad Pro to type". The battery is rated for a duration of up to 3 months on a single charge, based on daily use limited to 2 hours.
The Logitech Slim Folio Pro also looks highly adjustable based on what you are doing, be it typing, sketching or reading. For typing, users can dock the iPad upright and use the "edge-to-edge backlit keyboard", equipped with a scissor mechanism in each key and multiple shortcut keys. If you want to sketch, place the iPad on top of the keyboard, and if you have an Apple Pencil or similar, there's a magnetic latch to secure it. To read, fold the keyboard to the back of the iPad and enjoy.
The Logitech Pebble i345 is a portable and ergonomic mouse that uses Bluetooth to "give a new level of precision and control on iPad". Thanks to its slimness and a natural fit to the palm of a hand, the Pebble is easy and simple to use anywhere. According to Logitech, it will be available in both graphite and white to match other iPad accessories.
Both the Logitech Slim Folio Pro and Logitech Pebble i345 will be available in April 2020. The Slim Folio Pro for the 12.9-inch iPad Pro will be priced at $129.99 and for the 11-inch iPad Pro it will cost $119.99, and the Pebble i345 will be priced at $29.99. If you want to learn more about the Slim Folio Pro click HERE, and for the Logitech Pebble i345 click HERE.
Discuss on our Facebook page HERE.
KitGuru says: Do you have an iPad Pro or are you planning to buy the new iPad Pro? If so, are you interested in any of these Logitech accessories?