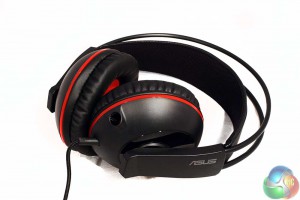 If you're familiar with ASUS' Vulcan Pro – which we reviewed back in 2012 – you'll already have a rough idea of the Cerberus' styling. The main body is a matt black, soft plastic, with protective sheet covered glossy sections on each earcup.
Running all the way around each is a red band which contrasts nicely with the black. Likewise the earcups themselves, which are a very bright, eye catching red on the interior.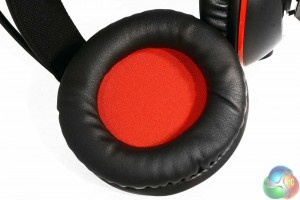 On the outside however, the part that sits against your head (since this is a full, over-ear style headset) is made of polyurethane coated leather, which should mean it is comfortable and hard wearing.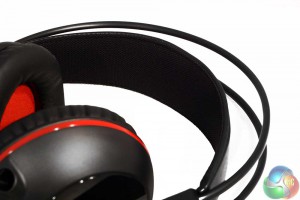 The Cerberus' headband isn't padded, featuring instead a simple leather and fabric band. It'll be interesting to see how that affects comfort over long usage periods.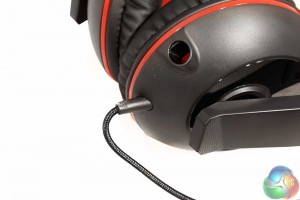 The audio in cable extends from the left hand earcup and sits right behind the mic port, letting you decide if you want the mic plugged in or not. Good for the paranoid, or those that want to eat something without bending it out of the way every couple of minutes.
Unlike many headsets, the Cerberus actually comes with two microphones, one boom mic for gaming and an in-line one for phone usage. Should you be out and about listening to music on your Cerberus headset and receive a call, you'll be able to answer it without unplugging the whole thing, or carrying around the large, foam covered boom mic.
The in line mic is also where the volume control and mute button is found and it has a clip, so you can attach it to yourself for extra cool points and added function.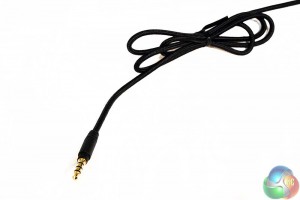 The cable for the Cerberus ends in a single 3.5mm connector, but attaching the extender (designed for PC connectivity) splits it off into audio input and mic cables. It's gold plated, but I'm sure by now most of you know all that does is look fancy and add some durability.