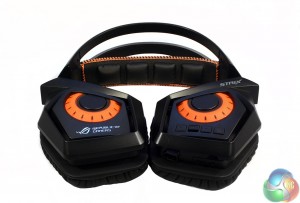 The ASUS ROG Strix headsets have always been eye catching and this one is no different. It features the same 'owl eye' look on the ear cups and a bold, orange and black colour scheme – though to save on battery, these ones do not light up when in operation.
The overall construction is sturdy but flexible. I would not have a problem throwing these in a LAN bag, knowing they will make it out at the other end without damage.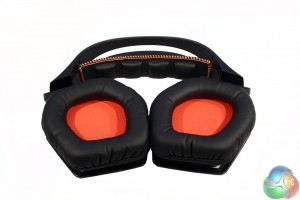 The orange and black theme continues on the inside of the ear cups too, though the colouring there is a little darker and richer, with a little more red influencing the overall tone. The ear cups are memory foam padded with a leather cover and are very soft and supple to the touch.
Each ear cups can also be rotated slightly in its base, which should make the fit that much more comfortable, especially for those with slightly out of the ordinary head or ear shapes.
The ear cups are rather large to cater to all ear sizes, so do not expect this to seem subtle when you are wearing it. You may get the odd look when out and about if you use this as your day to day headphones.
The left ear cup features four buttons which control volume up and down, microphone muting and a power switch. The other side features a trio of connectors: one for the mic boom, another for micro-USB charging cable and a 3.5mm connector as a back up wired solution for when the battery is low, or when wireless is not available.
The headband uses a blend of a main plastic band, as well as a leather/memory foam padded strap, which features high quality orange stitching and a STRIX logo written in an italicised text across its circumference.
The microphone plugs in easily – it can only go in one way, so you do not have to worry about getting it on backwards. When plugged in it is still impressively flexible, letting you bend it whatever way you like.