Testing the ASUS ROG Strix wireless headset involves using it to play a number of games over a couple of weeks, covering various genres and types of games. It was also used as my day to day music listening headset during work hours, as well as watching a couple of short films to gauge its ability to cover all forms of entertainment.
I also experimented with the Sonic Sound studio to see how well the customisation of the headset's sound holds up.
Gaming wise the ROG Strix Wireless is a very capable piece of kit. I tested it in explosive, action packed titles with bullets flying and explosions rattling my ears and in more atmospheric games where setting and mood are more important. Regardless of genre or game, I found this headset to be more than capable.

In games like Subnautica, the gentle bloop of bubbles was just as well represented as the distant roar of a stalking Reaper Leviathan and in Kingdom the coins plinked and plopped to the ground as I raced from end to end trying to keep my towers up right.
In virtual reality titles like Handguns, Horseshoes and Hand Grenades, I found the report was excellent, with clear differences between the different firearms and the thumping techno beat in Space Pirate Trainer gelled well with the zaps and barks of the various weapons on offer.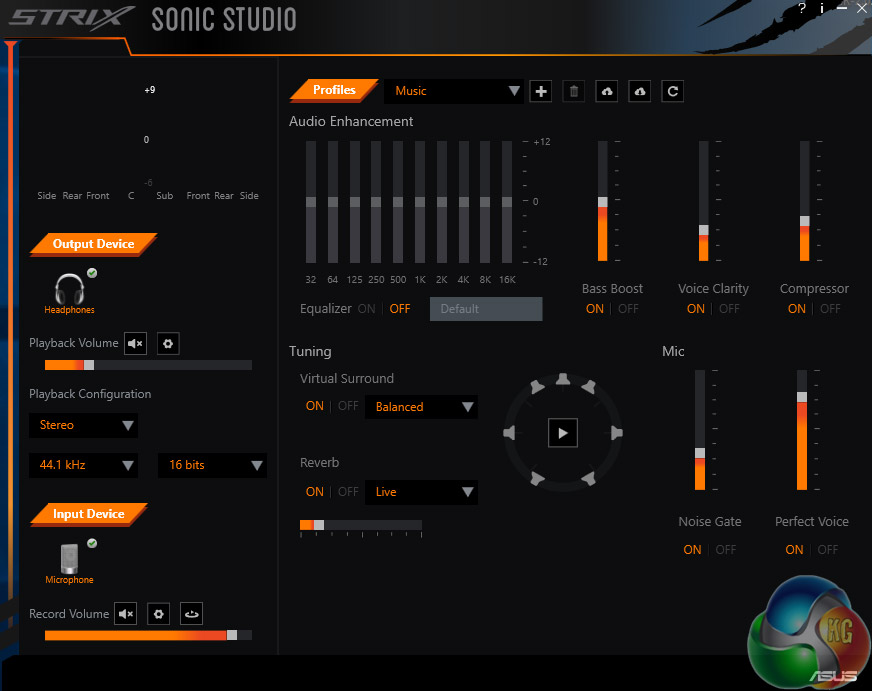 The Sonic Studio is simple, but effective, with a number of tweakable options. 
Something that was nice to see, or rather hear, was that even when the volume was at its peak, I did not hear much in the way of distortion. It is difficult to be as precise when your ears are wincing, but unlike a lot of weaker headphones, these ones do not seem to roll over and wave the white flag when the volume is cranked. I would like the volume to go even higher, but I am likely in the minority.
Thanks to the virtual surround sound elements of this headset, it does a good job of keeping you in the centre of the game world you are playing in. Sounds pan nicely from ear to ear and you do get some measure of front and rear sound. It is not perfect of course and surround sound fans will want to aim for a headset with true surround sound, or better yet, a dedicated speaker set up, but for the average gamer looking to add a bit more atmosphere to their games, these will suffice.
Movies sounded great too and there was a decent split between audio sources, so I never found dialogue muddied by the action or that sound tracks stepped all over important sound effects.
It is rare to get a decent gaming headset that also sounds good when music is playing, but I was pleasantly surprised by the ASUS ROG Strix Wireless. It has a deep and powerful lower end that can give you thumping, as well as powerful deep bass and the mid-range is strong too.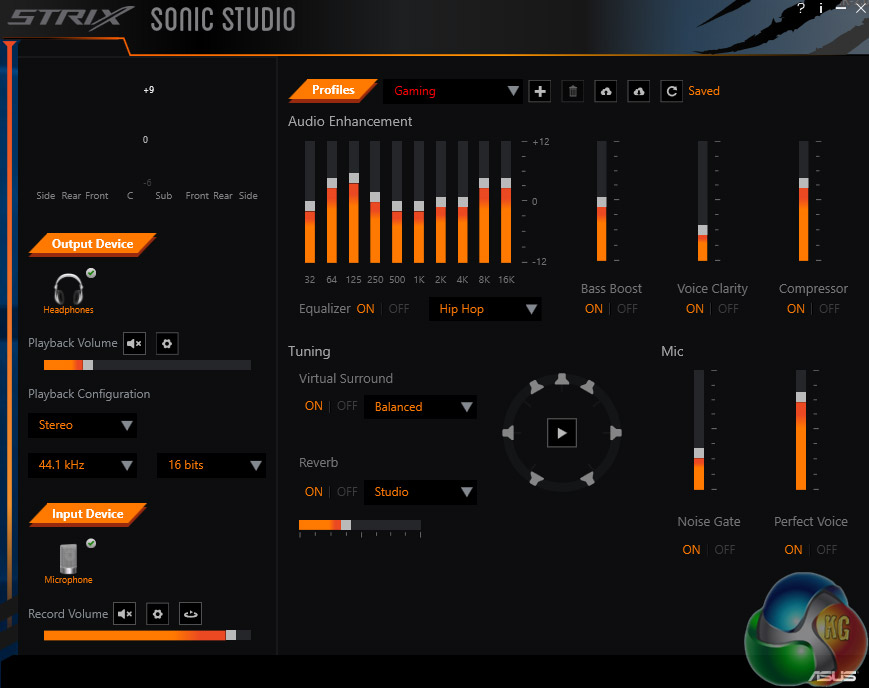 The equaliser lets you customise your sound even more, with a number of preset or custom options.
Comfort wise, the Strix Wireless is pretty solid. It sits nicely on your head and does not move around much at all, even during vigorous VR gameplay. That said, I did find it gets a bit warm, especially if you are jumping around a lot.
That, combined with the fact that ASUS still has not fixed the creaking headset frame problem that has been present in all of its Strix line, leaves me to recommend that this not be used as a VR headset replacement. While I think it works very well as a VR headset, the creaking frame can be quite irritating and it seems crazy that ASUS has yet to fix this after years of the same issue arising.
To its credit, the creaking seems slightly less apparent with this latest headset, but when moving the head to look up it still makes a strange, shuddering creak which can be quite disorientating in quieter games.
The range of the headset is impressive. It is rated at 15m, which I found doable when there was a clear line of sight. With walls and other blockages in the way, expect something closer to seven metres, but that is still enough for you to wander around a room or disappear into another without breaking the connection.
I also really liked how portable it was. Although large, the ROG Strix wireless earcups can be rotated to sit flat against your chest, or inside a bag – making it much easier to carry around. The detachable microphone also helped in that respect.
Speaking of which, it works very well indeed, with nice, clear audio that does not pick up much background noise at all. Unlike some headsets too, the noise cancelling does not seem to impact the user's voice, which is a pleasant surprise.
Background noise cancellation is very good. If you have a noisy house, this headset does a fine job of making you forget that for a short while.
Battery life was also solid. I managed just over eight hours on my first run, so saying they last up to 10 hours seems quite accurate.