Right off the bat I can happily report that the ASUS ROG Strix Wireless gaming headset is one of my favourites that I have reviewed in the last year. It ticks a lot of boxes and almost hits every mark right on the nose. I just wish there was a little more consideration when it comes to the materials used in its design.
Beginning with the positives though (and there are many), this is a great sounding headset. Whether playing games filled with gunfire and explosions, or quiet and serene experiences, it does an excellent job of reproducing the audio range of the digital world.

Although the virtual 7.1 surround sound is not about to replace a true surround headset or speaker set up, it is nice to have it there to slightly improve the atmosphere of some games. Other features available in the Sonic Studio software, like bass boost, voice clarity and compression are all quite situational and feel like they would be dependant on personal preference.
More of a surprise though was that these headphones sound good when playing music too, which is not something you can say for every gaming headset. They are not too bass heavy, though are still weighted to the lower end of the spectrum and deliver a solid sound, with plenty of volume.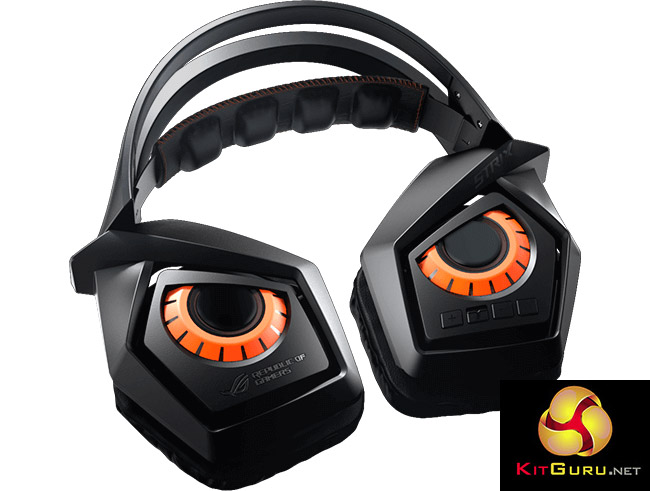 The cans themselves are also sturdy, but flexible and rotate flat, so can be easily stored or transported. They are also comfortable over long periods. I could not test console compatibility myself, but ASUS assures us that this headset works perfectly in wireless mode with the PS4.
I just wish they did not creak. Creaking headset frames are something that we have seen time and again with the Strix range and ASUS has not completely fixed it yet. This latest set are certainly better than others we have tested previously, but looking directly up or down will cause some headset creak, with a shudder that can take you out of the game at times.
That is not something you are likely to do when staring at a monitor, but wireless headphones are something that a lot of VR early adopters are interested in and while these are great for that in most respects, the creaking really can reduce the overall experience. As they are otherwise excellent, it is a little disappointing.
They also get pretty warm over long periods, so play somewhere well ventilated if you are going to be moving around a lot.
This headset is a really solid choice for wireless gaming, with great sound quality, a decent bit of back end software and strong comfort. It damn near approaches a perfect score, but unfortunately the creaking frame and overheating bring it down from that top spot.

You can pre-order the ASUS ROG Strix wireless gaming headset on Overclockers for £110. The planned release date is the end of August, but will be dependant on stock we're told.
Discuss on our Facebook page, over HERE.
Pros
Sounds great playing games, movies or music
Comfortable over long periods thanks to great padding.
Wireless function works well over a long range and battery life is close to 10 hours.
Good noise cancelling abilities.
Unique look.
PS4 and Xbox One (with adapter) compatibility.
Cons
Plastic frame creaking still present from previous Strix headsets.
Gets quite warm during frantic play due to large, over the ear design.
Thick plastic frame design may not be to everyone's tastes.
KitGuru Says: The ASUS ROG Strix wireless gaming headset is arguably the best it has ever produced. It sounds and feels great – I just wish they had completely eliminated the creaking issue.