Possibly one of the most impactful online piracy cases ever began in earnest this week, with the legal representatives of alleged owner of KickassTorrents, Artem Vaulin, facing off against the U.S. government over four federal indictments. His lead lawyer, Ira Rothken, best known for defending Kim Dotcom, argued that torrents weren't really copyright protected content, so could not be used as the basis for copyright charges.
Vaulin currently resides in Poland, where he was arrested and is awaiting his extradition trial. He was picked up by the authorities in mid-2016, after allegedly operating KickassTorrents for eight years. If he is sent to the U.S. to face legal action, he could be charged with copyright infringement, money laundering and tax evasion, with KickassTorrents alleged to have brought in upwards of $12 million a year in advertising.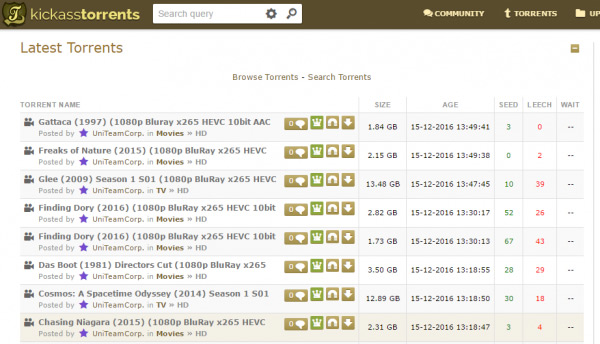 Arguing torrents aren't piracy is a difficult tack to take
Looking to head that off at the pass, Rothken and his legal team have made the claim that piracy via torrents, isn't really piracy:
"We believe that the indictment against Artem Vaulin in the KAT torrent files case is defective and should be dismissed. Torrent files are not content files. The reproduction and distribution of torrent files are not a crime,""Rothken said in a chat with TorrentFreak, about what he told the courts this week.
If someone were to use those files to infringe upon copyright after downloading them, that was not KAT's responsibility, Rothken argued. He also highlighted how the U.S. indictment of Vaulin, did not cite any particular cases of copyright infringement. Instead of a hotbed of piracy, as the prosecution maintains, Rothken described KAT as more of a search engine, like Google.
The prosecution called these claims nonsense, stating that Google does not make its business from uploading copyright protected content. They also urged the judge to not rule on the indictments until Vaulin's extradition trial had taken place and suggested that if Vaulin wanted to speed up the matter, he should voluntarily come to the U.S..
After statements from both legal representatives, the Illinois District Court judge will now rule on whether to proceed with the indictments, or dismiss them outright, as requested by Rothken.
Discuss on our Facebook page, HERE.
KitGuru Says: Although unlikely, if Rothken was able to receive a favourable ruling on this case based on the idea that torrents weren't really copyright infringement, that could change the landscape of piracy court cases dramatically.