PowerNAS has used a novel approach during the development of the CMA (it stands for Converged Media Appliance). To their way of thinking this Windows 8.1 PC can act as a replacement for three separate pieces of hardware and bring together the home PC, media centre PC and NAS Server in a single device.
In practice this means that CMA is a small form factor PC that supports four storage drive bays and is relatively quiet. The Operating System is Windows 8.1, although we had a nag screen begging us to upgrade to Windows 10, and the CPU is an Intel Pentium G3220 which has considerably more oomph than the Atom or ARM chip you often find inside a NAS.
On the rear of the CMA there are two HDMI outputs and one DVI-D where you can connect the CMA to a TV or TFT display(s) and certainly at first glance CMA fulfils all of PowerNAS' promises.
Watch via our VIMEO Channel (below) or over on YouTube HERE.
Specification:
Motherboard Gigabyte H97N-WiFi
Processor Intel Pentium G3220 3GHz Dual Core CPU
Intel HD Graphics
RAM 4GB DDR3 1600MHz
Boot Drive Kingston SSDNow V300 60GB
Chassis Micro Chassis w/ 4x 3.5″ SATA-3 6Gbps Hot-Swap Bays
(Orange LED for Drive Activity, Blue LED for Health/Status)
250W 80-plus Efficient PSU – Auto-Ranging Voltage
Lockable Front Door with Magnetic Catch
Network Dual Gigabit LAN (1000Mbps) Ports
Integrated Wi-Fi 802.11 a/b/g/n/ac, Bluetooth 4.0
Video Output 2x HDMI, DVI-D
Triple Monitor Display Support
USB 2x Front USB 2.0, 4x Rear USB 3.0, 2x Front USB 2.0
Audio Analogue Audio Output (Stereo Front, Stereo Rear, Sub-Woofer)
Analogue Microphone Input, SPDIF Digital Optical
Software Windows 8.1, Kodi Media Centre
Cast your mind back a number of years and you may recall that NAS didn't really exist as a separate category of hardware. The original problems we faced were that networking PCs together was difficult and hard drives were expensive and low in capacity.
Creating a specialist networked device packed with hard drives was a tricky proposition but over the years the situation has changed. Today you can buy a specialised 3TB WD Red NAS drive for £85 and any fool can connect a Windows PC to a router using a length of Ethernet cable. This raises the question, is Windows 8.1 any good as a NAS Operating System or are you best advised to use a dedicated version of Linux from the likes of QNAP or Synology.
Before we get into that, let's take a quick look at the hardware and the overall premise of CMA. There is no denying that CMA is small but it is too large (and the wrong shape) to fit under most TV stands so while it might act as a Media Centre you will have to find a home for it somewhere in your living room. Also, when you are looking for a PC for home use you may well be happy with a dual core Pentium with integrated graphics, but you will have to set aside any ideas about playing games or hardcore functions such as video editing.
While it is quite possible that CMA works as a NAS, the functions of home PC and Media Centre would appear to be side shows to the main event.
Hardware
As you can see in the video we were supplied with a version of CMA that comes with four 2TB WD Red drives to provide a nominal 8TB of storage alongside the Kingston SV300 60GB SSD that acts as a Windows 8.1 boot drive.
We opened the casing to look inside the CMA which is a luxury that is off-limits to regular customers as the cover is sealed with Torx screws. For some reason the warranty is voided if you dive inside although there isn't a great deal to see.
The hardware consists of a Gigabyte LGA1150 Mini-ITX H97N-WiFi motherboard with an active cooler on the CPU. The BIOS version is F2 which dates from April 2014 and the current version is F7. We left well alone but noted that BIOS F3 improves SSD performance while later versions relate to 5th Gen CPUs and NVMe so there may well be some benefit to updating the BIOS.
The 4GB of Kingston HyperX memory is rated at 1600MHz but was actually running at 1400MHz (14x100MHz). That isn't a great deal of memory for a modern PC but is fairly typical for a NAS. Wrapping things up we have the same Ablecom chassis and FSP power supply we recently saw in the PowerNAS Business Mini which look like decent hardware however the tiny cooling fan in the PSU is relatively noisy.
Software
Windows 8.1 is a well known quantity as a desktop Operating System and pretty much every Windows PC on the planet is connected to a network, but that isn't quite the same thing as using a Windows PC as a NAS. It took a short time to set the permissions for the drive array using Properties/Sharing/Advanced Sharing and after that the CMA appeared on the network without any trouble.
The other piece of software supplied on the CMA is Kodi Home Theatre software (formerly known as XBMC) which is a media centre program for streaming TV and movies, playing movies and viewing photos.
As we are talking about Windows 8.1 you will have no trouble finding, downloading and installing pretty much any software that you feel is necessary for diverse tasks such as security, cataloging photos or monitoring IP cameras.
Testing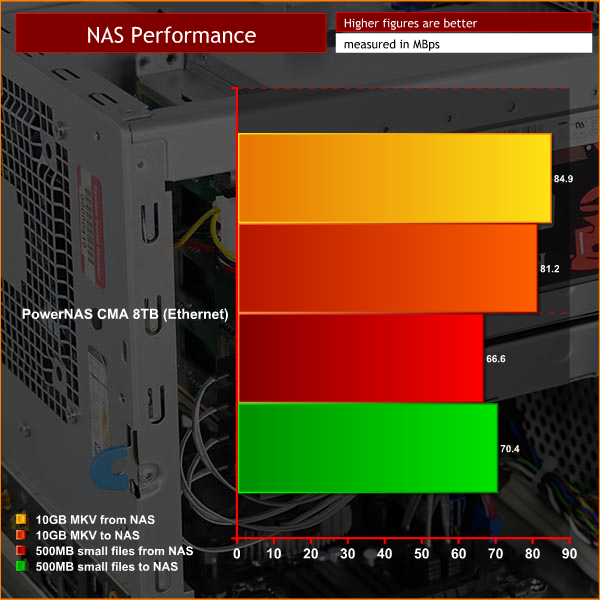 For the first round of tests we copied a variety of files across the network and timed how long each transfer took. The times and speeds for each test were pretty much identical to the results we got with the PowerNAS Business Mini which uses similar hardware and runs Windows Server 2012.
It was clear the CMA was faster than the Business Mini when it came to uploading large files i.e. writing to the drive array and we put this down to the improved performance of the WD Red drives in this NAS compared to the HGST NAS drives in the Business Mini system.
The speeds we saw ranged from 67MBps to 85MBps which is perfectly acceptable and better than many dedicated NAS with either an Atom or ARM processor.
We also used the CMA in Wi-Fi mode. The built-in Wi-Fi means you can park the PowerNAS CMA pretty much anywhere that you like without worrying about Ethernet, which is a handy bonus as it is rare to find Wi-Fi in a NAS. When the Ethernet cable is disconnected the CMA switches seamlessly to a wireless connection.
This wasn't an entirely fair test as our Virgin Superhub is the second version with 802.11n Wi-Fi, rather than the new 802.11ac version, so the router undeniably acted as a bottleneck in performance, Nonetheless this is very likely an accurate representation of the set-up in most homes with a Virgin or BT router.
As you would expect the 802.11n connection was slower than Gigabit Ethernet however the CMA worked effectively and transferred files at 19MBps to 25MBps.
Closing thoughts
It is unexpected to find a NAS running Windows 8.1 and frankly we had little in the way of expectations. It turns out that Windows 8.1 works perfectly well in a NAS, and of course it is a given that the combination of Windows, an Intel CPU and loads of storage works as a Media Centre PC and also as a low powered home PC. In that respect CMA is a success and PowerNAS can rest easy.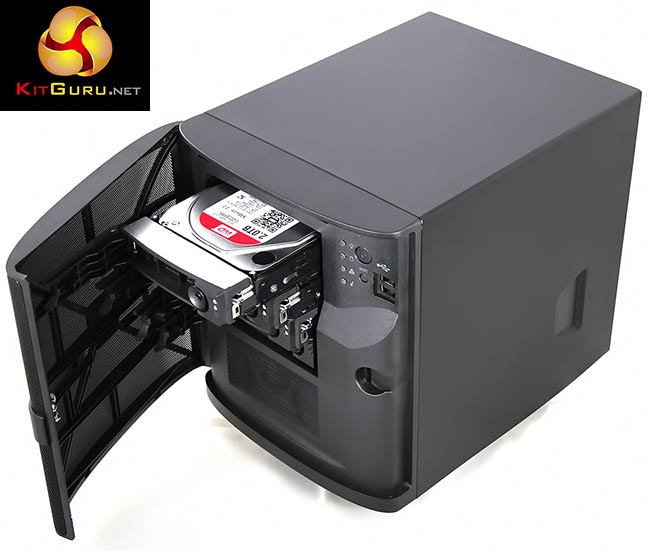 On the other hand Windows 8.1 isn't quite as user-friendly as dedicated NAS software so it helps if you have a small amount of technical knowledge. At the very least you need to know enough to frame the question that you want to answer and at that stage you will probably be able to figure things out.
The only actual problem we encountered was the noise from the cooling fan in the FSP power supply. A lesser complaint is that we couldn't figure out a way to shut down the NAS remotely and ended up connecting a mouse, keyboard and monitor directly to the CMA, rather than pressing and holding the power button.
Discuss on our Facebook page, over HERE.
Read more on the PowerNAS site HERE. Buy from the ServerCase website HERE.
Base model PowerNAS CMA with no hard drives is £336.59+VAT (£403.91 inc VAT).
4x 1TB – £505.89+VAT (£607.07 inc VAT)
4x 2TB – £583.39+VAT (£700.07 inc VAT)
4x 3TB – £642.97+VAT (£771.56 inc VAT)
4x 4TB – £776.28+VAT (£931.54 inc VAT)
4x 5TB – £893.09+VAT (£1071.71 inc VAT)
4x 6TB – £1002.65+VAT (1203.18 inc VAT)
Pros:
Fully configured – no work required.
8TB plus a boot SSD is ample for most people.
Very fair value for money.
Windows 8.1 works surprisingly well in a NAS.
Plenty of USB ports.
Cons:
Windows 8.1 isn't ideal for a total novice working with their first NAS.
PSU cooling fan is noisy.
You don't have full remote control of CMA and will need to connect peripherals.
It is a safe bet the CMA will restart once in a while to satisfy Windows Updates.
No dedicated app store.
KitGuru says: We didn't know what to expect from a Windows 8.1 NAS and ended up pleasantly impressed.