Samsung has had plenty of success in the virtual reality space with its GearVR headset. However, the main issue with that headset is that it also requires a Samsung Galaxy smartphone. To tackle this, Samsung has been working on a standalone VR headset for a while now. We have previously heard that it will have specs to give the likes of the Oculus Rift a run for its money and now this week, we have finally got our first glimpse at it.
At the Mobile World Congress a few months back, a VR company known as Visual Camp had the opportunity to see a behind closed doors demonstration of Samsung's 'Exynox VR III'. Visual Camp kept the secret for a while but eventually ended up spilling the beans, promoting the fact that Samsung's new headset uses VC's eye tracking technology.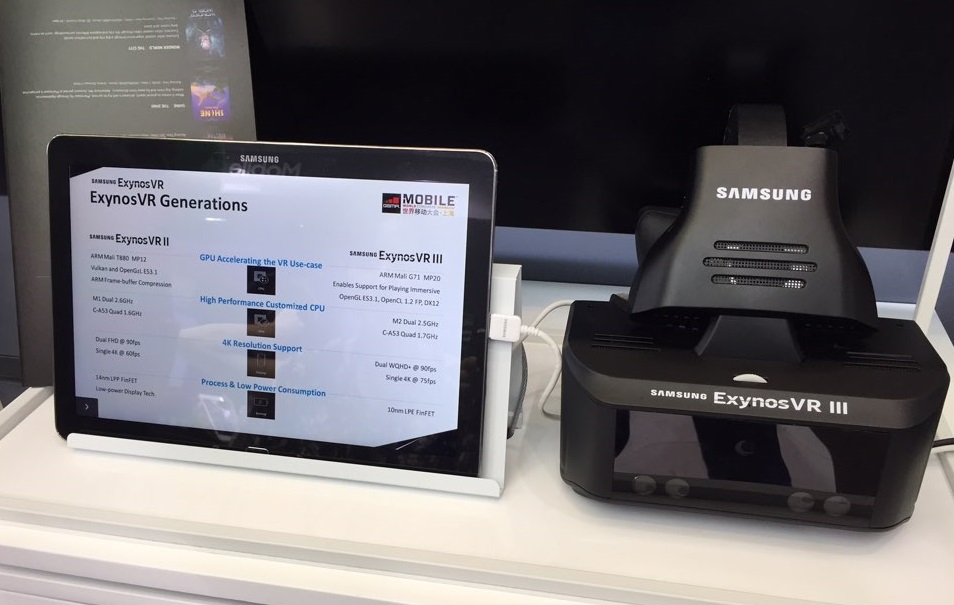 Image Credit: prnasia
The Exynos VR III headset is powered by a 10nm Exynos SoC, a Mali G71 GPU. From what we know so far, this should be enough to power a 2560×1440 display at 90Hz, or even a 4K one at around 75Hz. For tracking, Samsung has licensed Visual Camp's technology to track eyes, facial expression and hands.
As you can see from the images above, the Exynos III is a prototype and thus far, is only meant for demonstration purposes. However, it does seem like Samsung is getting closer to having a final product to launch.
KitGuru Says: We first heard about Samsung's standalone VR plans back in 2016 and since then, it seems that the prototype has gone through several iterations. Personally, I would like to see Samsung wait for 4K at 90Hz before releasing this. That said, we still have no idea what Samsung's release plans actually are.