Finding a good NAS system for business can be an important task. Fortunately, it looks like QNAP is pumping out quite a few at the moment. This month, QNAP Systems has introduced three new models, the TVS-1282T3, which focusses on transferring media across Mac and Windows, the TS-431X- a four bay entry level system with a 10GbE SFP+ port and finally, the TS-1685, a 16-bay Xeon powered Super NAS.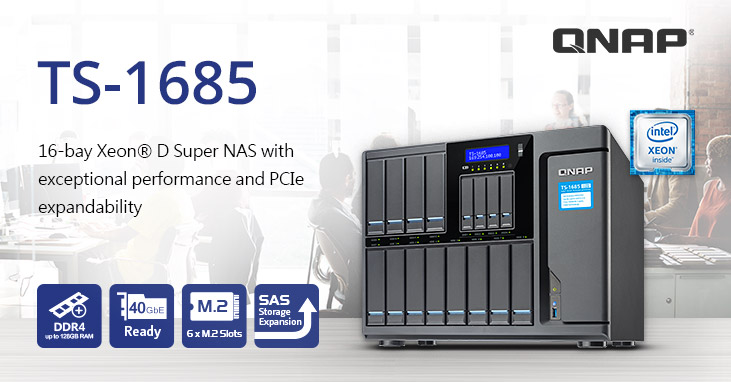 Let's start with the TS-1685 This is a business-class desktop NAS with support for twelve 3.5-inch drives and four 2.5-inch SSDs. There is also room for six M.2 SSDs, with the whole system powered by an Intel Xeon D processor to deliver high performance to go with the high-capacity storage. QNAP is positioning this as an enterprise IT system, which also packs three PCIe slots, supporting 10GbE and 40GbE NIC, PCI NVMe SSDs, GPUs or USB 3.1 expansion cards.
David Tsao, product manager of QNAP explains that the TS-1685 is "designed to incorporate both high performance and high capacity", with all the requirements necessary for modern data centres, making the TS-1685 an ideal choice to "tackle high-bandwidth applications such as virtualisation and massive data backup and recovery".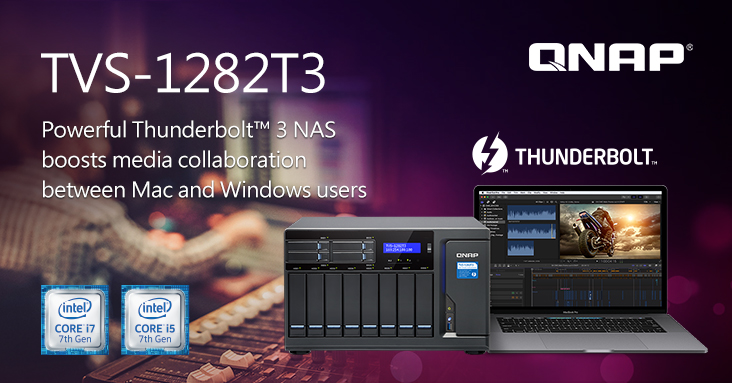 Next is the QNAP TVS-1282T3, a Thunderbolt 3 NAS sporting the latest Intel Kaby Lake processors, four Thunderbolt 3 ports, a HDMI output and improved transfer speeds over the previous generation. The idea behind this NAS was to create a system that could provide high speed transfers for media collaborators, both on Windows and Mac machines. With eight 3.5-inch drive bays, this NAS can theoretically house up to 80TB of data, which will be a big help for those working with massive 4K video files.
Here are the key specifications:
TVS-1282T3-i5-16G: Intel® Core™ i5-7500 3.4 GHz quad-core processor, 16GB DDR4 RAM, expandable to 64GB
TVS-1282T3-i7-32G: Intel® Core™ i7-7700 3.6 GHz quad-core processor, 32GB DDR4 RAM, expandable to 64GB
TVS-1282T3-i7-64G: Intel® Core™ i7-7700 3.6 GHz quad-core processor, 64GB DDR4 RAM
There are 12 bays in total with each of these systems, eight 3.5/2.5-inch bays and an additional four 2.5-inch slots for SSDs. There are two M.2 SSD slots, four Thunderbolt 3 ports, two 10GBase-T LAN ports, an additional four Gigabit LAN ports, three HDMI outputs and finally, five USB 3.0 ports.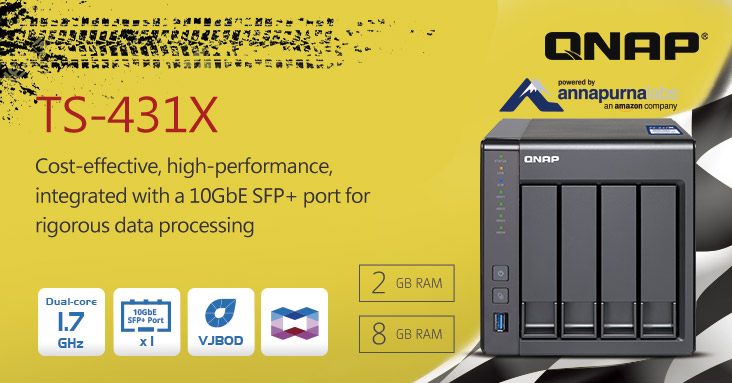 Finally, QNAP has also introduced the TS-431X, which unlike the previous two, is an entry-level system. This is a cost-effective dual-core NAS with four drive bays and one 10GbE SFP+ port. As QNAP puts it, this NAS is geared towards smaller businesses with a smaller budget to work with but still require speedy transfers and lots of bandwidth.
The TS-431X features a 1.7GHz dual-core CPU designed by AnnapurnaLabs, which is owned by Amazon. It also features up to 8GB of DDR3 RAM and can deliver up to 956MB/s read speeds over a 10GbE connection. It has 4-bays, so you should be able to cram quite a bit of storage into it. Aside from that, it comes with one 10 Gigabit SFP+ port, two Gigabit RJ45 ports, three USB 3.0 ports and a Kensington Security slot.
All of these NAS systems are available directly through QNAP.
KitGuru Says: We should have some QNAP NAS reviews up on the site fairly soon, so keep an eye out for those.